6 Movies About Home Invasions, In Honor of 'You're Next'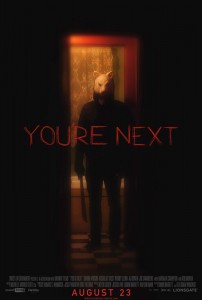 This week sees the release of You're Next a horror movie about a gang of mysterious killers trying to attack a family in their own home.
Read our review of You're Next.
This got me to thinking about other films that feature people attacked in their home. So here's your list…
Movies About Home Invasions.
Year – 1967
Based on a book that was based on a true story, In Cold Blood recounts the story of a brutal murder in America's heartland. When two drifters botch a robbery in rural Kansas their ensuing panic results in the vicious and senseless murder or the family living there. The story became a national news story and shocked the nation. The book, written by Truman Capote, singlehandedly lifted the "true crime" genre out of the dime-store spinner racks.
The film, which would get nominated for four Academy Awards yet confoundingly win none, is a masterpiece of the genre of that still stands up over 45-years later. Starring Robert Blake and Scott Wilson as the killers, the film explores the effects of crime (on both the victims and the perpetrators) in a way that had never been seen before. It offers insights and explanations that never feel like excuses. The amount of tension is palpable especially when you consider the fact that filmgoers knew not only "whodunit" but how they did it, and that they would be caught and executed. The movie's director (Richard Brooks) strived for authenticity using as many real locations as possible including the home where the murders took place, the courtroom where the trial was held and even the gallows where they were eventually hanged. (Ummmm…spoiler alert?)
Also an interesting side note – this was the first mainstream American film to use the phrase "bullshit". – TOK