Movie Review: 'You're Next' Starring Sharni Vinson, AJ Bowen, Joe Swanberg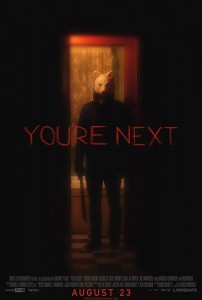 Horror fans certainly have a lot to be happy about lately. The genre has taken a step away from the "torture porn" style that flooded the 2000s, and it feels like the films have started to go back to their roots. Evil Dead came out earlier this year, and was a fantastic re-imagining of a beloved film. The Conjuring was made for the modest budget of $20 million dollars, and is in its fifth week in theaters at $194.5 million worldwide right now. You're Next is a fresh take on the home invasion sub-genre, blending a perfect mix of horror and comedy.
Paul (Rob Moran) and Aubrey (Barbara Crampton) Davidson recently purchased a house as a fixer-upper project for retirement, and decided to invite all of their kids to celebrate their 35th wedding anniversary. Among them are the eldest son Drake (Joe Swanberg) and his wife Kelly (Margaret Laney). Crispin (AJ Bowen), a college professor, who brings his girlfriend / former student Erin (Sharni Vinson). Their only daughter Aimee (Amy Seimetz) who arrives with her pretentious filmmaker boyfriend Tariq (Ti West). And their youngest son, Felix (Nicholas Tucci), who tags along with his unfriendly girlfriend Zee (Wendy Glenn) who couldn't seem to care less about being there.
Their reunion gets off to a seemingly normal start, with the usual bickering and jabs between siblings. But when one of the guests gets a random arrow through the head during dinner, the frantic group is forced to defend the home and each other from a group of masked assailants. There is something undeniably creepy about the facial coverings, each in the form of a different animal. They also add to the intrigue, as you wonder what it all means.
You're Next is well paced, and written in a way that constantly keeps things entertaining. The film blends horror and comedy in a way that takes the subject matter seriously, without letting things get too rigid. The dark and twisted style of humor reminds me a lot of Evil Dead II, which is refreshing to see after all these years. The main protagonist is Erin, who takes on an Ash-like role in the film. Her character is the product of years growing up in a survivalist camp in the Outback, and it shows in Vinson's performance. From the moment you see her survival instincts kick in, you know she isn't going down without a fight.
If horror is your thing, definitely give this one a shot. There are plenty of jumps and scares that are well done, never seeming cheaply manufactured. But never fear, for those who don't consider themselves horror buffs – there is plenty of humor and action for everyone.
You're Next is a B+