Movie Review: 'The Spectacular Now' Starring Miles Teller and Shailene Woodley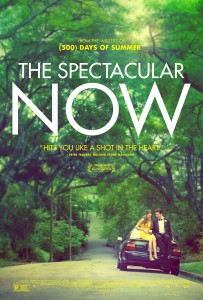 The Spectacular Now is a rare entry into the teen film drama, as it is a thoughtful and competent film that doesn't debase its audience, but rather takes a hard look at the problems of a young adult. The film centers on Sutter Keely (Miles Teller) as he navigates his remaining months before college. The film starts as Keely laments during a college entrance essay the loss of his first love, and how it is the defining piece of his life. We watch as Keely tries to battle his way through this loss with alcohol, only to fall into the unlikely arms of the bookish Aimee Finecky (Shailene Woodley).
Despite the effort Miles put forth to appear happy go lucky, the teen is a turmoil inside. He is never without his flask at his side, and exhibits a lot of dark tendencies because of it. The battle with the two sides of his self are the center point of the film, and some of the most engaging moments of the evenly paced film.
It's obvious when watching The Spectacular Now that its two stars, Miles Teller and Shailene Woodley, are destined for great things. Teller has long been the bright spot in a few poorly made films.  The actor proves he is a rising male lead, with a charisma that comes easily to few. With Teller's performance, it's hard not to draw comparisons to an every man actor like Tom Hanks, who had a similar talent of shining through in films despite the final quality of the film itself. Woodley continues to grow her stock after her fabulous turn in The Descendants. There is no hesitation in her acting, as Woodley adds a very natural quality to the film.
There is nothing fake about The Spectacular Now. Every facet of it feels like it could be a real moment from a teen's life. The hardships encountered by the characters within aren't far fetched or even out of place. No character motivations are unfounded, and every reaction feels lifelike. In the age of CGI, formula films, and comic book superheroes, it's a nice change of pace to watch something so grounded in reality.
Director James Ponsoldt, who until this point has done small independent features, will most likely be courted for bigger films in the future. The deft direction is what carries the film, aided in a brilliant adapted script.
The Spectacular Now is a film that doesn't shy away from dark moments, but lifts it with moments of levity that complement it for a thoroughly engaging ride.
Grade: A+