20th Century Fox to make a Moses epic?
There is no Cecil B. DeMille or Charlton Heston for this one, but the story of Moses is going to be told again. This time with "300-like re-imagining" and a "Braveheart feel". I guess I can understand, you are drawing from a huge audience center. A story beloved by both Christian and Jewish populations alike. The two films that Cecil B. DeMille was involved in, The Ten Commandments, are still classics today. I don't know if hyping them up to today's standards is what is needed.
From Variety.com:
---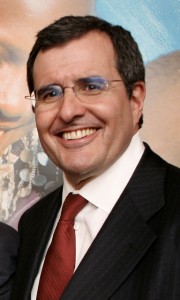 In his first significant film project acquisition, Peter Chernin is taking on a project of biblical proportions.
Twentieth Century Fox will develop a retelling of the story of Moses, from his near death as an infant to his adoption into the Egyptian royal family, his defiance of the Pharaoh and deliverance of the Hebrews from enslavement.
Chernin will produce with Dylan Clark, who recently moved over from Universal to become president of Chernin's Fox-based film company.
The script will be written by Adam Cooper and Bill Collage, who recently completed a scripted retelling of Herman Melville's "Moby Dick" for director Timur Bekmambetov at Universal.
"Moby Dick" was pitched as a "300"-like reimagining of the Melville story as a visually stunning action piece, and the story of Moses is conceived similarly.
The goal is to give a "Braveheart" feel to a story most famously captured in Cecil B. DeMille's 1956 film "The Ten Commandments."
Chernin adds the project to several pre-existing Fox projects he has joined as producer, including the John D. MacDonald novel series adaptation "The Deep Blue Goodbye," which is being developed as a star vehicle for Leonardo DiCaprio, whose Appian Way is producing. Dana Stevens wrote the script.
Cooper and Collage, whose most recent credit was the comedy "Accepted," scripted the latest draft of "Tower Heist," which Brett Ratner will direct for Universal and Imagine.
The scribes are repped by WME and attorney Jeff Frankel.
---
I think I'm disappointed in the lack of creativity in Hollywood. I always take a "let's wait and see" outlook in hopes that most of the stupid ideas they come up with might actually be brilliant. When you have the writers for Accepted doing a Biblical epic, it doesn't sound like a good idea on paper. I really wish that creative talent was running Hollywood, not a bunch of executives. Who knows, maybe this will go down as one of the best remakes of all time.