Mandalay Pictures options Joe Hill's 'Horns'
This really doesn't sound like a big deal (and it may not be), but when you are the son of famous author Stephen King, the media kind of steps up and notices. I think it says something really good about Joe Hill (born Joseph Hillstrom King) that he didn't immediately ride his father's famous coat tails. In fact, he started winning awards for his stories before he came public that he was King's son. That being said, I'm not sure this is being optioned for any other reason, but hope that he becomes as popular as his father. Let's hope his novels have a better track record on film than his fathers.
From Variety.com
---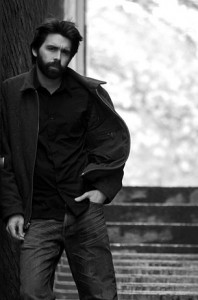 Mandalay Pictures has optioned the film rights to the upcoming novel "Horns," penned by Joe Hill, son of Stephen King.
Novel is described as a love story driven by horror and vengeance that revolves around a 26-year-old man who wakes up one morning from a blackout hangover and finds horns sprouting out of his head. As the horns grow bigger by the day, the reason why seems to lie in the unsolved murder of his girlfriend.
Book will be published by William Morrow in February.
Deal for "Horns" becomes the latest project for Mandalay as its pursues a strategy, spearheaded by prexy Cathy Schulman, to option properties and develop them inhouse before seeking financing or shopping them to the studios. Effort is seen as a way to speed up the development process while also maintaining more creative control.
Mandalay has already packaged best-selling novels — Lauren Weisberger's "Chasing Harry Winston" and Spencer Quinn's "Dog on It" — before selling them to Universal, where Mandalay has a first-look deal.
Mandalay topper Peter Guber and Schulman will produce "Horns" at Mandalay, while Hill serves as an executive producer.
Hill's first novel, "Heart-Shaped Box," was picked up by Warner Bros.
Hill uses an abbreviated version of his middle name (Hillstrom) so as not to be immediately associated with his famous father. Few people were aware of his parentage until the Daily Variety story on "Heart-Shaped Box" was published in 2006.
Over the past year, Mandalay has also optioned and is developing Liquid Comics' "Ramayan 3392 A.D.," Larry Beinhart's book "Salvation Boulevard" and Oni Press' graphic novel "Julius."
Mandalay is prepping "The Untitled Elephant Project" at New Line and Warner Bros., "When Dads Were Men" at CBS and "Sinatra" with Martin Scorsese at U.
---
The novel sounds like a grisly horror themed version of The Hangover. I have yet to read any of Hill's novels, but being a fan of some of his fathers work I think it might be worth checking out to see if he is at all similarly talented. Guess only time will tell.