American Airlines Announces "A YEAR IN THE AIR SWEEPSTAKES" To Celebrate The New Movie "UP IN THE AIR" From Paramount Pictures
AMERICAN AIRLINES ANNOUNCES "A YEAR IN THE AIR SWEEPSTAKES" TO CELEBRATE THE NEW MOVIE "UP IN THE AIR" FROM PARAMOUNT PICTURES
Visit AA.com for a Chance to Win 700,000 AAdvantage Miles
And a Trip to Attend the Los Angeles Premiere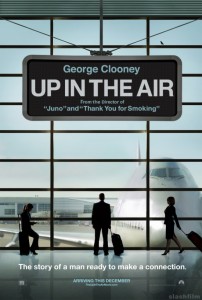 FORT WORTH, Texas – American Airlines has announced a sweepstakes to celebrate the new Paramount Pictures film "Up in the Air" by Oscar®-nominated director Jason Reitman and starring Oscar winner George Clooney.
The film tells the story of a business traveler whose cherished life on the road is threatened just as he is on the cusp of reaching 10 million frequent-flyer miles and after he's met the frequent-traveler woman of his dreams.
"American and our people are proud and excited to be part of a film that examines the life of a road warrior, while showcasing the commitment we make as an airline to our busy, frequent travelers," said Roger Frizzell, Vice President – Advertising and Corporate Communications at American Airlines. "Working with talented director Jason Reitman and his incredible cast was an opportunity we could not pass up. We hope our customers enjoy watching the movie as much as we enjoyed being involved during its production."
To further its association with the movie, American has introduced a new sweepstakes, "A Year in the Air."
The sweepstakes offers a chance to win the following unforgettable, one-of-a-kind prize:
· 700,000 AAdvantage® miles – that's enough for 12 First Class, round-trip MileSAAver® award tickets in the Continental United States or Canada,
· PLUS two Economy Class, round-trip AAnytime® award tickets to travel to Los Angeles as special guests of American Airlines to attend the "Up in the Air" movie premiere
· A $300 gift card to use for hotel or spending money while there
The sweepstakes runs now through Oct. 31, 2009. To enter, simply register at www.aa.com/upintheair and purchase a flight on AA.com during the promotional period. Registrants may receive up to three entries via this method – one for each flight purchased – and can earn a fourth entry by referring friends to the sweepstakes. To enter without making a purchase visit www.aa.com/upintheairamoe. The maximum number of entries allowed per person is four. For complete sweepstakes rules and other information, visit www.aa.com/upintheair.
About "Up in the Air"
Paramount Pictures Presents in Association with Cold Spring Pictures and DW Studios, A Montecito Picture Company Production in Association with Rickshaw Productions in Association with Right of Way Films A Jason Reitman Film "Up in the Air" starring George Clooney, Vera Farmiga and Anna Kendrick. The film is directed by Jason Reitman. Screenplay by Jason Reitman and Sheldon Turner. Based upon the novel by Walter Kirn. The producers are Ivan Reitman, Jason Reitman, Daniel Dubiecki and Jeffrey Clifford. The executive producers are Tom Pollock, Joe Medjuck, Ted Griffin and Michael Beugg. The director of photography is Eric Steelberg. The production designer is Steve Saklad. The film editor is Dana Glauberman, A.C.E. The costume designer is Danny Glicker. The music is by Rolfe Kent. The music supervisors are Randall Poster and Rick Clark. This film has not yet been rated.
About Paramount Pictures Corporation
Paramount Pictures Corporation (PPC), a global producer and distributor of filmed entertainment, is a unit of Viacom (NYSE: VIA, VIA.B), a leading content company with prominent and respected film, television and digital entertainment brands. The company's labels include Paramount Pictures, Paramount Vantage, Paramount Classics, MTV Films and Nickelodeon Movies. PPC operations also include Paramount Digital Entertainment, Paramount Famous Productions, Paramount Home Entertainment, Paramount Pictures International, Paramount Licensing Inc., Paramount Studio Group, and Worldwide Television Distribution.
About AA.com
With more than 1.6 million site visits per day, AA.com is American's largest distribution channel and the best place to do business online with the airline, 24-7. At AA.com you can conveniently search for and book low fares and award travel; select seats; make hotel, rental car and cruise reservations; get flight arrival and departure information; sign up for flight status notification and even check in and print boarding passes. You can also manage your AAdvantage account at AA.com, as well as sign up to receive emails from American and get customized DealFinder(SM) alerts and other special offers. Additionally, customers who purchase tickets at AA.com get a lowest-fare guarantee. AA.com has twice received the World Travel Award for World's Leading Airline Internet Site and has received multiple site awards from various organizations.
About American Airlines
American Airlines, American Eagle and American Connection® serve 250 cities in 40 countries with, on average, more than 3,400 daily flights. The combined network fleet numbers more than 900 aircraft. American's award-winning Web site, AA.com®, provides users with easy access to check and book fares, plus personalized news, information and travel offers. American Airlines is a founding member of the oneworld® Alliance, which brings together some of the best and biggest names in the airline business, enabling them to offer their customers more services and benefits than any airline can provide on its own. Together, its members serve nearly 700 destinations in more than 130 countries and territories. American Airlines, Inc. and American Eagle Airlines, Inc. are subsidiaries of AMR Corporation. American Airlines, American Eagle, American Connection, AA.com, AAdvantage, AAnytime, MileSAAver and We know why you fly are registered trademarks of American Airlines, Inc. (NYSE: AMR)
###
American Airlines® We know why you fly®
Current AMR Corp. news releases can be accessed via the Internet.