Uncharted 2: Among Theives Trailer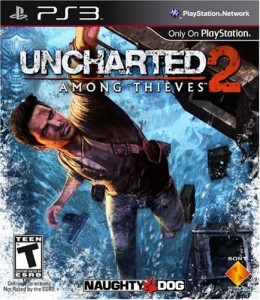 I don't own a PS3 yet, but I was lucky enough to play Uncharted: Drake's Fortune on a friend's PS3. The visuals were great, but there were some issues with the gameplay. Overall, the experience was one that made me crave a PS3 (and now with the price drop it is a nice reality). The second looks just as good. What really draws me into these type of games are the visuals and the complete storyline. It felt like I was playing a big Hollywood blockbuster. Some might compare it to an Indiana Jones like film, but it's great being able to control these characters and have some decision of where things go.
Synopsis:
Uncharted 2 picks up a couple of years after the events of Drake's Fortune. Similar to the previous story, Nathan Drake's (voiced by Nolan North) new adventure revolves around an unsolved historical mystery – this time surrounding Marco Polo and his doomed voyage home from China in 1292. After spending almost 20 years in the court of the emperor Kublai Khan, Marco Polo departed with 14 ships and over 600 passengers and crew – but when he arrived at his destination a year and a half later, only one ship remained, and only 18 of the passengers had survived. Although Marco Polo described almost every other aspect of his journeys in minute detail, he never revealed what happened to the ships that were lost. Drake joins up with an old friend and his assistant, Chloe to rob a museum of a relic of Kublah Khan's that they suspect may help them find out more about Marco Polo.
Uncharted 2: Among Thieves goes on sale October 13, 2009 on the PS3.