Premiere 2nd Street Café and Catering – Restaurant Review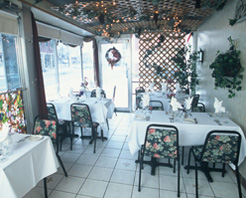 If you're in the St. Charles area and looking for a excellent steak for a reasonable price then I strongly recommend you go to Premiere 2nd Street Café and Catering. When you drive up you might have second thoughts about whether or not you can get a good meal at this establishment, but this is the ultimate "looks can be deceiving" place. Housed in a former Dairy Queen store you can guess that the architecture from the outside is less than impressive and you might be surprised by the small dining area, but don't let these things think you won't be getting a great meal.
We happened upon Premiere because we had tried to go to a restaurant on Main St. in old St. Charles but there were waits everywhere. On the way to finding another restaurant we saw Premiere on 2nd Street just a few blocks north of old St. Charles and decided to give it a try. We found we had made a good choice. As mentioned before the dining room is small and we were fortunate to get in because they had several reservations for the evening. We were quickly seated and greeted by our waiter who quickly got our drink order and explained the specials being offered for the evening. However, the sign outside Premiere touted their tender, hand-carved filets and we both were anxious to try it out and we both ordered the filet, although I was tempted by the tuna filet that was a special for the day.
While waiting for our main course to arrive we were treated to some fresh French Bread and our salads. They provide olive oil and parmesan cheese that we combined on our bread plates for a delicious blend to dip the bread in. One of us had the house salad, a conventional blend of romaine lettuce, tomatoes, onion, and croutons with a vinaigrette dressing, and one of us had a Caesar salad. Both were done well and enjoyable.
A short time after finishing our salads the filets with the sides were brought to our table. The filets looked delicious when they were delivered and the taste did not disappoint. We both felt it was the best filet we had ever had. It was an extremely tender piece of beef and had great flavor. The seasonings that were used were really complimentary to the beef's flavor as well. The sides consisted of seasoned red potatoes cut into chunks and a vegetable medley of green beans, carrots, yellow squash, and red peppers. The vegetables were tasty and a good complement to the meat on the other hand the potatoes, while cooked well, seemed like they could have used a little more seasoning.
While we didn't have any dessert, the waiter described what they had to offer and we will be going back soon. Their marquee dessert is their "Pimped Cheesecake" that is covered with a variety of other tasty things, such as Bananas Foster. It sounded very good and the waiter explained that it was developed when a customer asked owner and chef, Jim Thomas, to "pimp my cheesecake!" They have several other desserts as well that all sound like they are very good.
I would highly recommend Premiere 2nd Street Café. The price for the filet was good at $24.95 because it included the salad and the two sides and could even be considered a great price because of the quality of the meat. They also have a nice selection of other items on the menu that are lower priced if you're not interested in the filet. The wait staff did not seem to have the aplomb you might find in other fine dining establishments but they were definitely friendly and worked hard to provide good service. Owner Jim Thomas also stopped by our table to check on how we were doing.
Premiere' 2nd Street Café is at 1116 N 2nd Street in St. Charles. They do take reservations and while we were told that walk-ins can usually be seated, I would recommend you make a reservation to ensure you can be seated since the dining room is so small and there is no place to wait to be seated. And you do want to make sure that you are seated because once you are, your taste buds will be in for a great experience!