2014 St. Louis Cardinals Preview – Shortstop
Note: this is an ongoing series previewing the Cardinals. You can find catchers here, first base here, second base here, and third base here.

I rooted hard for Peter Kozma. I really did.
The Cardinals' first-round pick in 2007, Kozma escalated through the system based mostly on the merits of his glove, which I'll admit was terrific last year. His bat, though, was never that great to begin with, and I think Cardinals fans were falsely given hope thanks to the small sample size of 2012 and his "what just happened" game-winning hit in the NLDS:
For all that, though, Kozma is a career .236 hitter in the minors, and although he acquitted himself well early in the season, hitting .278 as late as May 26, he hit just .179 the rest of the way, while he was offensively a non-factor in the post-season after the NLDS.
Ultimately, general manager John Mozeliak made the decision to go outside the organization for help (especially since the team soured on once-prospect Ryan Jackson) and made what could reasonably be considered a polemical decision.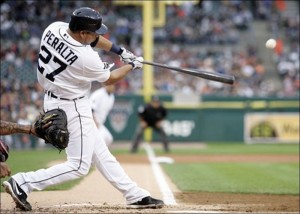 Jhonny Peralta
2013 stats – .303/.358/.457, 11 HR, 55 RBI, 3 SB, 3.3 WAR, All-Star
I remember Peralta coming up through Cleveland's system and wishing we could have a prospect like him. His first full season with the team, he hit 24 home runs and played good enough defense that he was worth 5.1 WAR at the age of 23. He's still kept his power (four 20+ home run seasons, nine straight seasons of at least 11 home runs), but his overall productivity has fluctuated, and his issues culminated last year when he was suspended for 50 games for his role in the Biogenesis scandal.
The decision for the Cardinals to give a 31-year-old shortstop $53 million for four years was heavily scrutinized, and a lot of current ballplayers weren't happy with it, which is understandable.
People really don't understand how this works. We thought 50 games would be a deterrent. Obviously it's not. So we are working on it again.

— Brad Ziegler (@BradZiegler) November 24, 2013
Others, such as Matt Holliday, who's vocally been one of the strongest objectors to PED usage, have been a little more forgiving:
"I am against PEDs and always will be," Holliday said Monday at the Cardinals' winter fan festival. "But I also am a forgiving person, and he served his suspension. That's the rules of the game. I'm happy to have him as a teammate."
Peralta will be heavily tested this year, and any repeat will be a 100-game suspension, so hopefully he'll be smart enough to stay clean.
If he can stay clean and healthy, there's reason to believe he could be a true offensive threat, something the Cardinals haven't really had since Edgar Renteria left town. No starting shortstop (excluding Furcal's stint in 2011) has slugged over .400 since Renteria slugged .401 in 2004, while Peralta slugged .457 last year and has a career slugging percentage of .425.
Now, defensively, the Cardinals will be trading in a bit of range. For his faults, Kozma was a very good defender – he posted a 9.6 Ultimate Zone Rating last year and made 69 plays considered out of his zone. Peralta, on the other hand, posted a 3.5 UZR and handled 48 plays out of his zone. Peralta is pretty sure-handed, though, so anything he gets to he will likely make the play on.
Peralta had a terrific first half last season (.303/.361/.447, 8 HR, 46 RBI), so if the Cardinals can get anywhere near that level of productivity, it'll be a staunch offensive upgrade.
Prospects
Greg Garcia, the shortstop at Memphis last year, was coincidentally the double-play partner of Kolten Wong at Hawaii. After a rough start to the season, he rebounded decently, finishing the season with a .271/.377/.384. He doesn't have a ton of pop, but he has a career .386 on-base percentage in the minors, indicating a penchant to draw walks. Garcia also spent time at second and short, so he could be called up in a pinch should anyone at either position go down for the Cardinals.
Down the ladder, the most intriguing prospect for me is Alex Mejia. He was the Pac-12 Player of the Year in 2012 at Arizona. Drafted in the fourth round, he tore his ACL late in 2012. He recovered enough to play in 2013, though, and finished the season at high-A Palm Beach. It's likely he'll start the season there, but he could move up to Springfield sometime next season.