2014 St. Louis Cardinals Preview – Second Base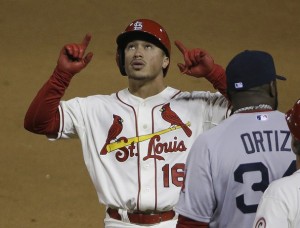 St. Louis has had a bit of a revolving door when it comes to the middle of the infield. Second base has been the worst overall culprit. How bad? The last player to start more than two seasons in a row as the opening day second baseman was Fernando Vina, whose final season with the Cardinals was in 2003.
Since then, the Cardinals' Opening Day starters at second base have been:
2004 – Tony Womack
2005 – Mark Grudzielanek
2006 – Aaron Miles
2007 – Adam Kennedy
2008 – Adam Kennedy
2009 – Brendan Ryan
2010 – Skip Schumaker
2011 – Skip Schumaker
2012 – Daniel Descalso
2013 – Daniel Descalso
Not exactly a beacon of awesome or consistency.
The Cardinals did manage to find a starter last year, though, and he did a phenomenal job. Matt Carpenter, a third base in college and the minors, was asked to make the move to second base in order to get his bat in the lineup (shades of Skip Schumaker). Unlike Skip, though, this transaction worked marvelously. All Carpenter did was lead the majors in runs, hits, and doubles while playing at the very least league-average defense. Carp earned an All-Star game spot for his efforts and established himself as a legitimate leadoff hitter.
With David Freese gone, though, management made the decision to transition Carp back to third base. Fortunately, the Cardinals have one of the highest-rated second base prospects ready to take his place, with a solid free-agent signing ready to help out.
16 Kolten Wong
2013 stats – .153/.194/.169, 0 HR, 0 RBI, 3SB, -0.4 WAR
Ok, so, his stats in limited September playing time aren't that great.
And yes, he did do this.
But Wong, the Cardinals' 22nd overall pick in the 2011 draft, has done nothing but produce since he started his career in the minors. Wong hit .358 in his career at Hawaii and skipped the low minors, heading to A ball as soon as he signed. He moved to AA in 2012 and up to Memphis last year, where his numbers (.303/.369/.466) actually improved.