Movie Review: 'The Lego Movie' Starring Chris Pratt, Will Ferrell, Elizabeth Banks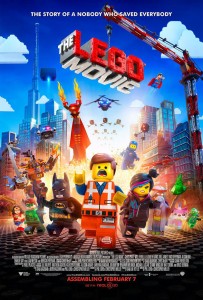 There are certain things in life that instantly recall a sense of nostalgia. The bark of a dog can make one person remember a beloved pet they had years ago. Randomly hearing a song on the radio brings back thoughts of an old relationship. For others, there are toys that, when you see or think about them, you can't help but harken back to more innocent days.
For me, it was Legos. Man, I loved those things. I probably have over $2,000 worth of old sets stashed away somewhere, and it's unlikely more than four or five of them are completely assembled. As a kid, I would always build the sets I received as birthday or Christmas presents, then I'd dismantle them to build something new.
What did I build? Anything. Everything. I was really into naval history, so I would build mock-ups of World War II battleships, like the USS Missouri or the Bismarck. I built guns, pretending to be a soldier, recreating famous battles. I built replicas of sports stadiums and replayed some of the greatest games in history. My mom always got mad at me for taking apart all the sets. "All that money on those sets, wasted because you don't keep them together." But for me, that was half the fun. Legos were just one thing that could fuel your imagination into creating a new world, and properly placed bricks left in the carpet made for great anti-intrusion devices for when my sister rolled around.
It's this nostalgic sense of freedom and creativity that drives The Lego Movie, the latest project by Phil Lord and Chris Miller, who've helmed the seminal Cloudy With a Chance of Meatballs series as well as the 21 Jump Street film franchise. In the past couple of decades, the Lego company has really branched out and grabbed licensing rights from comic books, legendary film franchises, and other notable merchandising opportunities. The sky truly has become the limit when it comes to building with Legos. It's this level of freedom that the movie attempts to capture, and it's wildly successful.

The idea of "anyone can do anything great that they imagine" is personified in the protagonist, Emmet, an ordinary construction worker who's perfectly content with his every day life. Chris Pratt (who's quickly become one of my favorite actors) lends his voice to Emmet, and it's hard to imagine anyone else playing him more perfectly. Pratt has built his career on portraying just an ordinary, everyday guy, and it's his innate meek nature that really gives Emmet the naiveté necessary to save the universe.
He's countered perfectly by Wyldstyle (Elizabeth Banks), whom Emmet encounters randomly after work one day. Emmet's struck by Wyldstyle's beauty, but before he can pursue her he falls down into a rabbit hole and ends up inadvertently finding the "piece of resistance," the one thing that can save the Lego universe from President Business (Will Ferrell), who's bent on gluing the Lego universe together, thus depriving it from any possible creativity.
Sound ridiculous? It certainly is.