2014 St. Louis Cardinals Preview – First Base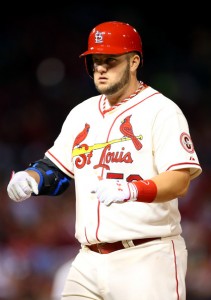 And on we roll around the horn from behind the plate to the first stop on the basepaths.
Cardinals fans were lucky enough to witness one of the greatest hitters in history manning first from 2004-2011. When he moved on, it wasn't unreasonable to expect at least a bit of a drop in production, but thankfully, Allen Craig has stepped up huge the last two seasons, even earning an All-Star nod last season.
This year, though, it's pretty easy to project yet another starter at first base, as the the departure of Carlos Beltran coupled with the season-ending injury suffered by super-prospect Oscar Taveras has left an opening in right field, where it's likely Allen Craig will move.
32 Matt Adams
2013 stats – .284/.335/.503, 17 HR, 51 RBI, 1.2 WAR
I wrote about Matt Adams a couple years ago and predicted he could be starting at first base by 2014. I'm really hoping he gets the nod for opening day if only to say I was actually right.
It doesn't happen often. 🙁
Regardless, Adams broke out last year, cranking 17 bombs in limited playing time, posting the best HR/PA out of any Cardinal (one every 18.8 plate appearances). It's pretty safe to say he's a pull hitter based on his spray chart, and he hit the vast majority of his home runs over the right field wall.
That isn't to say he can't go opposite field, though. He hit several extra base hits oppo, and he's young enough that he could develop some pop to left.
When he gets a hold of them, though, he can produce some shots, as evidenced by this shot against Arizona.
Adams may not be the most nimble guy or best fielder ever, but he surprised a lot of fans with a few spectacular plays at first.
There was this against San Diego:
What's that? Another one? Well alright.
If his elbow can stay healthy and he can get 600 plate appearances, it's not unreasonable to expect 25-30 home runs.
Should Adams need a day off, it's likely Craig would slide into the starting spot. Newly-signed Mark Ellis can play first in a pinch, but it's not too likely. Matt Carpenter would also be a possible starter should Craig be unavailable.
Prospects
Brock Peterson was a somewhat-overlooked story last year when he made his major league debut at the age of 29. While Cardinals fans certainly took notice at the time, the overall success of the season mixed with his limited productivity made him a footnote in the season notes.
With Peterson now in the Nationals organization, the likely starter at Memphis is going to be Xavier Scruggs, who popped 29 home runs at Springfield last year. He doesn't hit for a high average (career .249 in the minors), but he did post a .376 on-base percentage last year, well above his career average. This could be an indication of increased patience at the plate, or it could well be he was simply pitched around. 2014 should give a decent indication of whether Scruggs has a future in the organization.