Super Bowl XLVIII: What to Watch For in This Year's Super Bowl
With the big game starting in mere hours, the excitement for Super Bowl XLVIII is nearing its pinnacle.  The hype of media day is over, both the Seahawks and Broncos have completed their final walkthroughs, and all that is left is the countdown to kickoff.
From the moment the AFC and NFC Championship games ended, one of the big concerns was how the weather in East Rutherford, New Jersey would impact the game.  With a forecasted temperature in the fifties, no precipitation, and light winds, Mother Nature has removed herself as a factor of excitement.  There will be plenty of other stirring variables to watch for, though.  When I first sat down to start making a list of what I thought would be exciting and key matchups, I had double-digit choices to write about.  It is unlikely that anyone would want to read 20 pages on what I feel are all the intricacies of the Super Bowl, not to mention it would probably take longer to write than it would to actually play the game.  Thus I have narrowed it down to four things to watch for on Sunday evening — in between all those much anticipated commercials, of course. 
1.The Battle of Football IQs Between Denver's Peyton Manning and Seattle's Earl Thomas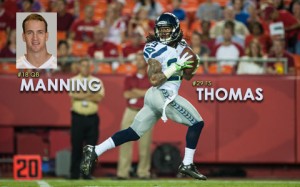 These are two of the smartest players in the game.  Having Manning on the field is synonymous with having an extra coach.  It is hard to imagine anyone putting in more work into studying opposing defenses than Peyton Manning.  His ability to read what a defense is going to do and check off to a different play at scrimmage has long been viewed with awe by people in football.  What I think is more impressive is his ability to make adjustments within a game in a relatively short period of time.  Prior to the AFC championship game, how many hours did New England's coaching staff spend trying to devise a game-plan to stop Peyton Manning?  Even if their 8 defensive coaches only spent 40 hours game-planning, that is 320 total hours of work — which took Manning approximately 25 game minutes to crack.
There is also the experience factor too.  Manning has been there before; he has both won and lost a Super Bowl.  Comparatively, no one for Seattle has ever played in a Super Bowl before.  Where Manning's prowess is well known, Seattle Free Safety Earl Thomas has not yet reached that level of notoriety.  Thomas is a brilliant defensive player who always seems to be in the right place at the right time.  "I want to be the best — not just safety or corner — but defensive player," Thomas stated on Wednesday's media day.   He is well on his way to achieving this goal, at only 24 years old he is already a three time Pro-Bowler, has 345 career tackles, 15 career interceptions and 32 passes deflected down.  Thomas' head coach Pete Carroll has compared his ability to Troy Polamalu and Hall of Famer Ronnie Lott, both legends Carroll has previously coached.  If anyone on Seattle's defense is going to be able to solve Manning's "Omahas" and disrupt the running and passing lanes, it is going to be Thomas.  Watch for a chess match of the two players using offensive and defensive audible, fake play changes, and feigned blitz packages as these two battle wits Sunday evening.
2.  The Legion of Boom vs. The Four Horseman
Here's the non-nickname format:  the defensive secondary of Seattle vs the Denver receivers.  Both groups represent the best in their collective positions during the 2013 season.  Seattle's Legion of Boom consists of the aforementioned Earl Thomas, Richard Sherman, Kam Chancellor, and Byron Maxwell.  This unit anchored a defense that allowed the fewest passing yards and fewest passing touchdowns in the NFL and had a league-high 28 interceptions.  Thomas, Chancellor, and Sherman were all also selected to the Pro-Bowl this season for their exploits.  Chancellor, the league's biggest safety at 6'3" and 232 pounds, is instrumental in stopping both the running and passing game.  He recorded 99 tackles and had 3 interceptions this season.  Then there is the Legion's primary pass defender, Richard Sherman.  By now even the non-football fan has heard of the loquacious Sherman, as his post NFC Championship game interview has been replayed ad nauseum.  Many people were unhappy with how Sherman dubbed himself "the best corner in the game".  The problem is he may very well be right.  Sherman led the league this season with 8 interceptions, one of which he returned for a pick-6.  He will have the opportunity to show off his skills Sunday as he will likely face a healthy dose of Demaryius Thomas.
Demaryius Thomas, along with fellow wide receivers Wes Welker and Eric Decker and Tight End Julius Thomas, were at the forefront of a Denver passing attack that set an NFL record with 55 receiving touchdowns.  All four players had double-digit touchdowns, with Demaryius leading the way.  He hauled in 92 receptions on the season, 14 of them going for a score and racking up 1,430 yards.  Decker was right behind him in all three categories with 87 receptions, 11 touchdowns, and 1,288 yards.  Julius Thomas and Welker may have better luck working the center of the field.  The Cover 3 Zone defense that Seattle plays may be effective in keeping Demaryius and Decker from making many plays down the field and outside the numbers, but it is susceptible to underneath plays inside the numbers.  Chancellor will pick up one of the two slotted receivers, but that leaves either Welker or Julius to be covered by a linebacker, leaving at least one exploitable matchup.
3.  "Beast Mode" vs. However Many Men Denver Can Put In the Box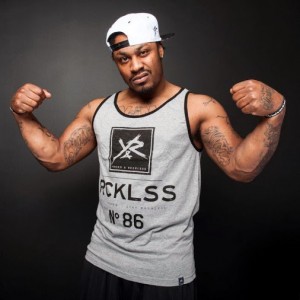 If you are a fan of players who give outrageous, witty, and long interviews, Marshawn Lynch is not for you.  However if you are a fan of "old school, pound-the-rock football" Lynch is absolutely your man.  The reserved Lynch doesn't like talking to the media, but in a brief interview with Deion Sanders of the NFL Network on Wednesday, he stated, "I'm just about that action, boss… That's what it is. I ain't never seen no talking winning nothing."  Luckily his actions speak louder than his words.  Lynch was an All-American at Cal-Berkley, a first-round draft pick, a four time Pro-Bowl selection, and tied for the league lead this season with 12 rushing touchdowns.
Lynch is the driving force of Seattle's offense, carrying the ball 301 times for 1,257 yards and adding another 316 yards on 36 receptions out of the backfield. In Seattle's 13 wins this season, Lynch rushed for 1,012 yards, 11 touchdowns and added two additional scores through the air.  In their 3 losses, Lynch only amassed a combined total of 245 yards.
Quite simply, he can take over a game and will be Denver's first priority on defense. The logical play is to put as many defenders close to the line of scrimmage as possible to try to keep Lynch contained, forcing Seahawks quarterback Russell Wilson to win the game with his arm.  Seattle may also benefit, even if Lynch is contained.  If Denver has to pull in safeties to stop the run game, it will mean plenty of one-on-one matchups for Seattle wide-receivers Golden Tate and Doug Baldwin.
4.  It Always Comes Down to the Fight in the Trenches
These are the unsung heroes of every football game.  They don't get a Gatorade shower, they're not hoisted up on shoulders, there is not an Erin Andrews interview after the game, and they will never win the MVP trophy.  They are the offensive linemen and they probably have the hardest job in football.  Every play, protect the franchise quarterback and running back from a 280 pound body builder running at full speed who wants to rip their heads off.  It doesn't sound glamorous, but it is important.  Quite simply, teams that advance to the Super Bowl have to have solid play on the offensive line.  Denver allowed the fewest sacks in the NFL this season (20), and while it is true that Manning's quick release and pocket awareness helped keep that number low, Denver's offensive line is bolstered by current Pro-Bowl right-guard Louis Vasquez and 2012 Pro-Bowl left-guard Zane Beadles.  Seattle is going to try to hit Manning as often as possible, which means Vasquez, Beadles, et al. have the unenviable task of keeping Peyton upright.  This task will be even more difficult if Seattle's secondary can provide tight coverage, forcing Manning through more progressions and requiring him to hold the ball longer.  Seattle was tied for 8th in the league with 44 sacks, surprisingly with more of those sacks (26) occurring away from their very advantageous home stadium, CenturyLink Field.  Seattle's offensive line will also have their work cut out for them protecting Russell Wilson and opening running lanes for Marshawn Lynch.  Seattle's line is anchored by two-time Pro-Bowl center Max Unger and former first-round draft pick Russell Okung.  Unger is 6'5", 305 pounds, and has a beard that St. Louis Cardinal Jason Motte would envy.  Unger is an expert at creating holes for the running game.  He will have to do so against a Denver defensive line, led by Terrance "Pot Roast" Knighton, which held New England's running game in check in the AFC title game two weeks ago.  Okung was a Pro-Bowler in 2012 and is considered to be one of the top offensive tackles in the game.  He will have to contend with Denver's leading sack-getter, Shaun Phillips, who recorded 10 sacks this season while forcing 2 fumbles.
Denver Will Win If…
They are able to score a couple times early in the game.  A few quick scores may reduce Seattle's ability to run the football as much as limiting Marshawn Lynch's role.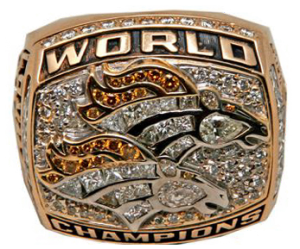 Also look for Denver to try to establish a running game early on with Knowshon Moreno and St. Louisan Monte Ball.  If they can force Seattle to keep Kam Chancellor inside to stop running plays, that means that both Wes Welker and Julius Thomas will have to be covered by linebackers or nickel corners, giving Peyton two exploitable matchups.  It also means that they will only be able to double either Decker or Demaryius Thomas on deep routes but not both, potentially opening the door for a long strike down the field.
Seattle Will Win If…
They can keep the ball out of Peyton's hands.  This will be done two ways.  First:  with ball control.   If they can run the ball effectively, with Lynch pounding out five- and six-yard runs consistently, they can put together long, time-consuming drives where Peyton is just a spectator.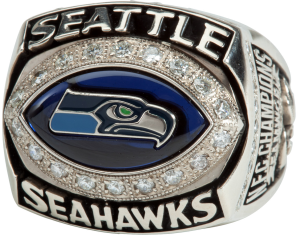 If you look at Denver's Week 15 loss to San Diego, the Chargers ran the ball 44 times for 177 yards and held the ball for almost 39 minutes compared to Denver's 21 minutes.  Lynch and Seattle are a much more effective team running the ball than is San Diego and if, at the end of the game, Seattle has around 40 out of 60 plays that were runs, they probably are bring a trophy back to the Pacific Northwest.  Second:  by creating turnovers.  Seattle is far and away the best defense that Denver has faced.  If they can rattle Peyton Manning and force him into situations where he tries to force balls instead of taking sacks, they may be able to create turnovers and send the Denver offense off the field.
Still Looking For More Entertainment?
If you are still looking for more ways to enjoy the game on Sunday, try creating a "prop bet" score card and give them out to your Super Bowl party guests.  You can include everything from the coin toss to the length of the National Anthem, to which players are often seen crying.  Have a prize for the guest that acquires the most correct answers.  For a full list of all of this year's prop bets, check out http://www.oddsshark.com/nfl/super-bowl-props-full-odds-list.
Hope everyone enjoys the game!