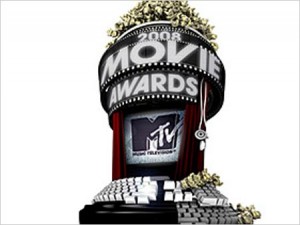 I sat in my room last night, silently psyching myself up to watch the MTV Movie Awards. At what I still consider the young age of 26, I realized I am no longer who MTV is courting to be their bread and butter for advertising. I knew I had to prepare myself for another year of screaming teenagers, and lots of closeups on Robert Pattinson. I was, of course, not disappointed in that aspect, and since I had mentally prepared myself for it, I enjoyed the show much better than the previous year. (Read our coverage of last year's MTV Movie Awards.) So, I present to you the highlight and low lights of this years awards.
Touching moments:
I wholly expected Ken Jeong's speech for "Best WTF Moment" to be filthy, and quite hilarious. What I didn't expect was a heartfelt speech, where doctor turned funny man Jeong, almost breaks down in tears talking about his wife's battle with breast cancer. It is the absurd moments mixed with classy moments like these, which make the MTV Movie Awards a show worth watching.
Sandra Bullock once again proves why she is so beloved in Hollywood. She gracefully acknowledged her situation, and kindly told everyone to move on. Bullock who looked stunning in a black dress was warned by presenter Betty White to, "Never wear that dress backwards." Bradley Cooper, Betty White, and Scarlett Johansson all deserve a lot of credit in making what could have been an uncomfortable moment, into one for the highlight reels.
Twilight Continues With World Domination
Half of the night was once again a long commercial for the Twilight series. The film took home five Golden Popcorns by the end of the night. Was anyone really surprised?
Twilight seemed to even dominate categories it wasn't even in. Anna Kendrick received the Best Newcomer Award for her performance in Up in the Air. Was the audience awarding her for that fantastic role or was it for her part in the Twilight series? After all the other winners, I can't imagine it was for her work in that film.
Screams abounded as a clip from Eclipse was shown, where Bella still seems to be struggling with her choices, Team Jacob or Team Edward? The clip itself was slightly boring until the last ten seconds where we got a few clips of the action to come.
Despite hating the films I can't help but like most of the actors in it. Robert Pattinson seems to be a good sport about the whole thing, and doesn't seem nearly as much of an idiot as I had once expected.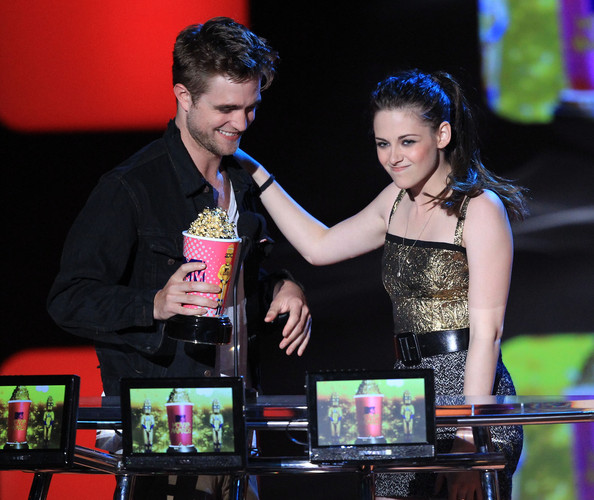 Harry Potter Plays Second Fiddle
Despite Twilight stealing most of the show, the other popular book franchise turned huge movie franchise, Harry Potter, still scored a few blows. Best of all was the Best Villain win for Harry Potter's long time nemesis Draco Malfoy aka Tom Felton.  Felton might be a villain on screen, but seems a genuinely nice guy off screen. (Check out his awesome cameo in Get Him to the Greek.)
MTV Movie Awards presented us with our first sneak peek at Harry Potter and the Deathly Hallows.  These short clips make it seem like the film is going to be an emotional roller coaster til the end.  Easily the best clip/trailer of the night.
The Comeback of Tom Cruise
Just a couple of years ago Tom Cruise had fallen into a PR nightmare. His Scientology persona was wiping away a 20+ year career on the A-list. It all culminated with a manic couch jumping Tom on the Oprah Winfrey show.  Luckily for Tom, it seems he has a new PR group behind him, because he had some genuinely funny moments reprising his Tropic Thunder character Les Grossman.
Tom still has a bit of manic glee in his eyes when he presented the Best Movie Award last night, but it should suit him well for his next role in Knight and Day.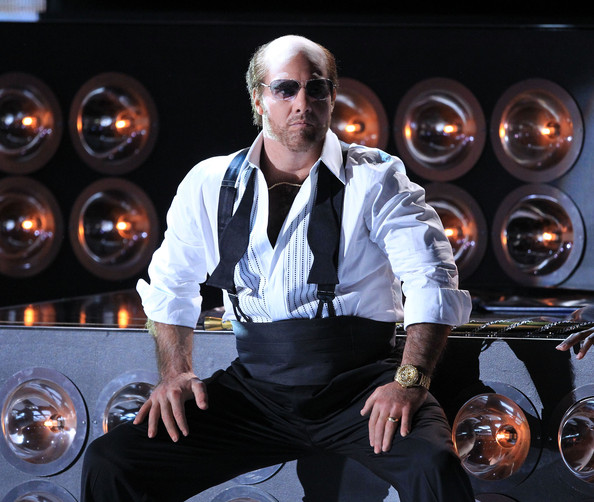 Aziz Ansari: Final Grade B+
Aziz's opening monologue was short and sweet with a number of good jokes, and plenty of on stage charisma.
Unfortunately, a lot of his pre-taped skits were hit or miss. Stunt Kidz reunited him with his Human Giant counterparts, but they failed to recreate the same magic they had on their old MTV sketch comedy show.
He made up for Stunt Kidz, with an appearance of Tavon, the image consultant, who was showing a tearful Zach Galinfianakis how to live it up.
Ansari spoke for much of the world when he compared BP to the evil corporation in Avatar, and followed it with a hearty amount of "F*** BP!!"
And now….the award for the worst on stage moment goes to……
Live award shows are tricky, and sometimes things don't always work out. What I am sure was a cute moment between R. Pattz and Lip Biter, was one that was slightly uncomfortable for everyone else, when they tried to kiss on stage after their Best Kiss Award.
Mark Wahlberg and Will Ferrell upstaged Best Villain winner, Tom Felton, as he was saying his heartfelt thanks to his "mum" and girlfriend. The actor even had to explain, "I might not get another chance to do this." After Wahlberg "jokingly" threatened him the entire time. I'm sure they thought it was funny, but most of the viewing audience saw it as rude.
I didn't realize J. Lo was making a comeback as well. Do I not keep up with pop music anymore? I thought the only person who really cared about J. Lo these days, was J. Lo?
What did you think of the show? Let us know in the comments!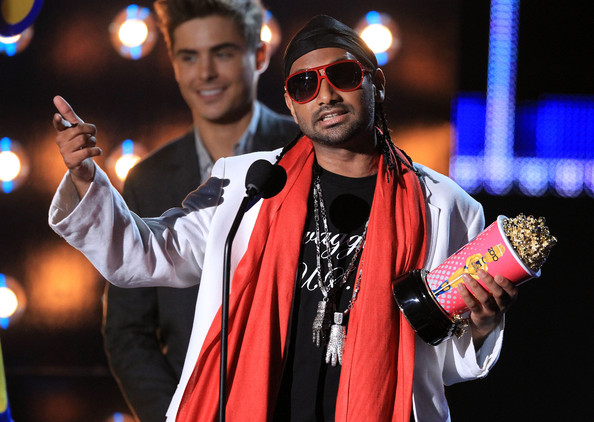 List of Winners
Best Movie
The Twilight Saga: New Moon
Best Male Performance
Robert Pattinson, Twilight: New Moon
Best Female Performance
Kristen Stewart, Twilight: New Moon
Breakthrough Performance
Anna Kendrick, Up in the Air
Best Villain
Tom Felton, Harry Potter and the Half-Blood Prince
Best Comedic Performance
Zach Galifianakis, The Hangover
Best Kiss
Kristen Stewart and Robert Pattinson, Twilight: New Moon
Best Fight
Beyonce Knowles vs. Ali Larter, Obsessed
Best WTF Moment
Naked Trunk Surprise — Ken Jeong (The Hangover)
Biggest Badass Star
Rain
Best Scared-as-S*** Performance
Amanda Seyfried, Jennifer's Body
Global Superstar
Robert Pattinson
MTV Generation Award
Sandra Bullock