MTV Movie Awards, Bruno, and Eminem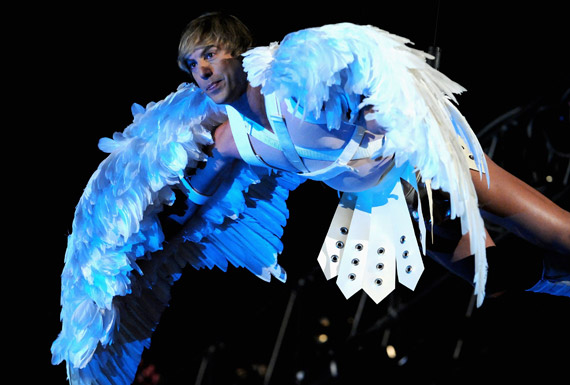 This year's MTV Movie Awards gave you plenty to laugh about, but overall left a bad taste in your mouth if you are a big movie fan. The MTV Movie Awards are always more of a spectacle than an award show. The categories tend to be a bit ridiculous and the speeches even more so. This year it seems to have been taken over by the "tweens". Movies like Twilight and High School Musical 3 dominated the night. Which might seem odd since those movies are aimed at pre-teens and teens, when the movie awards are filthy enough to be aimed at a slightly older audience.
The show started out simple enough with host Andy Samberg transplanted into different popular movies such as Slumdog Millionaire, Twilight, The Reader, and Star Trek. It all ends with him naked in Justin Timberlake's limo. Once we get into things a lame opening dance number was done. There were some funny moments to it, but overall the response from the audience looked a bit lame. It also looked like Megan Fox wasn't happy to be mentioned in it.
Where I got my first inkling of where the night was going was the first category. Best Female Breakthrough Performance was given to Ashley Tisdale for her (awful) performance in High School Musical 3. Maybe I'm showing my age, but this doesn't seem like the movie awards I remember. Sure they usually awarded big spectacle, but I don't remember it being the Teen Choice Awards. I find it awfully funny that they try and throw in a picture like The Reader every once in a while act like they are somewhat legitimate. If the voting is any indication of what audience is voting, I'm pretty sure none of the people who voted had even heard of The Reader, let alone see it.
This continued the trend for the night. Twilight walked away with 5 popcorn statues. Robert Pattison looked like he was getting tired of collecting them by the end. High School Musical 3 got two of them and, Miley Cyrus walked away with Best Song for her Hannah Montana movie. So, there were 11 awards given away, not counting the Generation Award won by Ben Stiller, and 8 of those were won by tween movies. The others were Baby Mama for Best WTF Moment, Heath Ledger for Best Villain (which they just mentioned, they didn't do anything for it), and Jim Carrey for Best Comedic Performance, which I'm only assuming he won because he always give a good MTV Movie Awards speech.
One of the things that I always liked about the MTV Movie Awards were that they threw away all the pretentiousness of normal award shows and they don't even really hold it in a proper time of year. They celebrate the fun of the movies, but this time it seems it was just a two hour long promotional item for Twilight/New Moon. Transformers and Harry Potter and the Half-Blood Prince both got spots but those movies being the huge releases this summer, I expected a bit more about them. I might be a bit biased since I like neither the Twilight series or the High School Musical series. I read/watched them both with open minds and found them to be pretty lame. I know they are immensely popular. I just find it weird that a movie that didn't even gross $200 mil won Best Movie over the top grosser and better critically acclaimed movie, The Dark Knight. This is probably where my bias comes in. I just found it odd that droves of teenage girls all of the sudden decided to make Twilight rule the movie awards. Well, here is one thing I can look forward to. They don't control the other award shows.
Well, onto highlights from the night. Easily the thing that is going to be most talked about is Sacha Baron Cohen's drop onto Eminem and Em's prissy prima donna reaction. It is very humorous that a guy who has made a huge portion of his money off of singles that make fun of pop culture icons can't take a joke. I guess he was never taught if he can't take it don't dish it out? Sure, I wouldn't like a guys crotch in my face either, but Cohen's Bruno is so ridiculous that I don't see how you couldn't find it funny. What makes it funnier is that Bruno announced the winner while basically getting beat up by Em's posse. The look on Zac Efron's face was incredible. He didn't know what to do. However, at least he took it in stride rather than whining and storming out of the show like Eminem.
Probably the best rehearsed part of the show was the "Cool Guys Don't Look at Explosions". It's Samberg in his natural habitat doing a digital short for the MTV Movie Awards.

Overall, the night was fun, but I just couldn't get past who won. I guess that is what makes award shows fun. You want to root for your favorite movies, but they can't always win. Never underestimate the power of a teen girls love for a gorgeous vampire….