Restaurant Review – Robust Wine Bar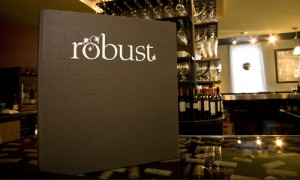 Now, I've been to my fair share of bars in St. Louis over the years – Martini Bars, Chocolate Bars, Hole-in-the-Wall Bars, College Bars and more…but Robust Wine Bar was my first wine specific bar.  And how did I stumble upon this Webster Groves award winning bar?  Groupon.com, of course (If you haven't noticed…start buying Groupons)!
This place was exactly what I expected; snazzy and modern with wines at varying price points, small plated menu options, and a nice selection of desserts.   Off the bat this is a great place for a romantic date night, a gathering of your girlfriends or even a group of grandmas looking to have a nice night out on the town (like those women seated next to me).
Our server was extremely attentive, answering the 50+ questions one of my dinner guests asked him about the wine.  The poor guy even had one of the grandmas chewing his head off over the cost of a glass of wine she had, and he handled the situation very professionally.  As I mentioned, the wine does come in various price points – some of those leaning toward a higher dollar amount…but you're in Webster Groves at a Wine Bar, what else would you expect?
Tapas are not always my favorite, because you're getting a very small portion for a high price…but at Robust you're getting a small portion at a lower price, so it's well worth it.  Even better, everyone can get their own small plate and you can share, which is what we did on our visit.  We ended up trying the Spinach and Three Cheese Spread, Chicken Satay Skewers, Iberico Cheese and the Bread Pudding.  From my past postings you may remember I have a love of trying spinach dip at restaurants all over St. Louis…this was definitely a top contender in my favorites.  Rich, cheesy and probably the thing I ate the most of on this visit!  I have no complaints about any of the food I tried, but I have to rave about the Bread Pudding.  Bread Pudding is a gross concept to me…it's pretty much mushy bread.  Well, this was the BEST MUSHY BREAD I've ever had.  Seriously, if you are a bread pudding kind of person, those with me who normally love it were stating this was the best they've ever had.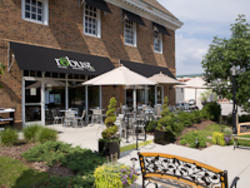 But, if you're visiting the Robust Wine Bar you probably aren't too worried about the food, you want the wine!  Robust knows what they're doing, breaking out their menu based on Crisp, Mellow or Luscious whites and Soft Hearted, Generous and Robust reds.  And if you're more of a very sweet or bubbly drink fan, there are champagne and dessert drinking options, as well.  The staff is very well versed on how to pair your wine or how to find one that matches your tasting preferences.
Grab some girlfriends for a week night out, or bring a book and enjoy an afternoon glass of wine.   Robust is also a great place to get the wine lover in your life a unique gift.  Their in-store gift boutique includes various wines, wine accessories and home decor.  Not sure if there's something at Robust for you?  Visit robustwines.com for directions, menu options and more.