Alright, let's continue to look at some of the films that are coming out later this year!
Shutter Island – October 2nd
Here we have Martin Scoresse's followup to his Oscar winning tale The Departed. This time he is going in with an adaptation of the Dennis Lehane novel Shutter Island. The film is set on a place called Shutter Island, which is a mental institution. Two U.S. Marshalls come to the island to investigate an escaped captive, only to stumble on plots more sinister than a psychotic girl on the loose.
What could go wrong? Well, if you've seen the trailer for this one, you know it doesn't look like anything Scoresse has done before. The cinematography looks lush and vibrant, probably more so than any previous film by Scoresse. What remains to be seen is how well the film will perform in the box office. Lehane's adaptations always have critical platitudes heaped upon them with previous adaptations such as Mystic River and Gone Baby Gone. Mystic River had a decent run because of it's Oscar push, but Gone Baby Gone had a very minimal showing. Although, once you factor in a A-List name like Scorcesse onto the project and you might have a breakout hit. One thing that does concern me is that they are putting it out at the beginning of October, which is not usually a release date for Oscar bait like this. However, The Departed had a similar release date and nabbed Scorcesse his first Academy Award for Directing. This is probably the film I am looking forward to most in the month of October, let's hope it is as good as the source material it is adapting.
A Serious Man – October 2nd
Another Black comedy from the Coen Brothers. Taking place in 1967 A Serious Man follows a character named Larry Gopnik, a physics professor, who has just been left by his wife for another man. His whole life is falling to shambles, his lazy brother sleeps on his couch, his daughter is stealing money from his wallet, and his son is constantly getting into trouble. As everything in his life keeps falling apart, Larry seeks the help of three different rabbis to instruct him on how to change things.
What could go wrong? Well, the Coen's have come off one of their biggest financial successes with Burn After Reading and before that one of their best critical successes, No Country for Old Men. There is no doubt that the Coen's have a deft hand when directing black comedies, but unfortunately they are sometimes hit or miss critically. Last year's Burn After Reading after reading might not have been the critical followup the brothers were looking for, but it made a decent amount of money for the style of film it was.  After this black comedy the Coen's will once again back to a darker western route with a remake of True Grit. This has potential just because of the directors talents and the performances they get from actors, which in this case is a largely unknown cast.  Will it translate into box office success? Most likely not, but it should be a fun time.
Capitalism : A Love Story – October 2nd
Love him or hate him, Michael Moore knows how to create a interesting political documentary. Sometimes it might seem he isn't presenting the whole facts, but there is no doubt he gets his point across. This is the story about the current economic crisis, what caused it and who was responsible. It will include interviews with many Wall Street insiders.
What could go wrong? I can't help but think that Moore is getting a little more broad in his endeavors. This and his last film Sicko don't really favor one political side or the other, but a general American appeal. What American can't think of someone they know who was screwed by the health care industry? What American isn't currently being effected by the current economic crisis (well, other than the ones who created it). Moore has a brilliant opportunity to show the greed which propels this country right now, and the people who further that agenda. This film could reach his widest audience yet, the question is, will he alienate the right again? I'm really hoping that he attacks people and not sides in this one. Maybe a little less clever editing and cold hard facts will gain him some new support.  I look forward to his film, and hope it wakes up many people to the dangers we are ignoring in our government and Wall Street.
Couples Retreat – October 9th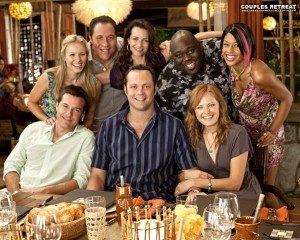 A Jon Faverau penned comedy about a couple who are in danger of separating sign up for a couples retreat. They convince three other couples to join them with the allure of a tropical resort. Things start to go badly as the couples find out to stay at the resort they must attend mandatory couples therapy sessions to stay.
What could go wrong? Well, what is right is that Faverau is writing and co-staring with his Made and Swingers's co-star Vince Vaughn. Peter Billingsley, you might know him as Ralphie from A Christmas Story, directs what promises to be a good comedy. The ensemble cast has a lot of rising stars in it, including two blond bombshells, Forgetting Sarah Marshall's Kristen Bell and Watchmen's Malin Akerman. This seems a very Apatow-esque production. Vaughn's last few films have been disappointing, so I think everyone is hoping for a bit of a change. Faverau is on fire at the moment after directing Iron Man and it's upcoming sequel in addition to his great comedic turn in I Love You, Man. As long as this one stays more in the comedic territory it should be a good hit. If it goes anything like Vaughn's The Break Up though, we might be in a bit of trouble.
Zombieland – October 9th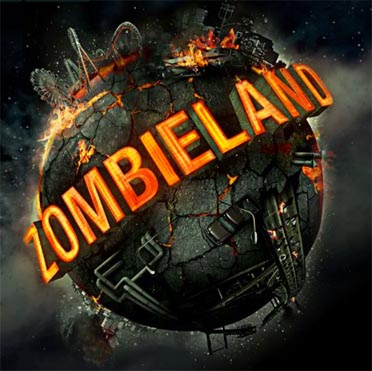 A Zombie apocalypse is going on and cowardly Columbus must face them down with the help of zombie killing pro, Tallahassee, who is trying to chase down the world's last Twinkies. Along the way they meet two young girls, Witchita and Little Rock, who together try to go to an amusement park where they might be safe and live out til the end of the Zombie outbreak.
What could go wrong? Well, Jesse Eisenberg is in his second picture of the year which features a theme park predominately. This could be a breakout year for the young actor. The only downside is that he seems to be playing the Michael Cera type in both films he is in, quiet, shy, but a bit witty. Woody Harrelson looks absolutely hilarious in his role as the Twinkie loving Tallahassee. Emma Stone and Abigail Breslin take a bit of a risk in this one, taking a backseat to the male leads. Eisenberg and Stone are the most likely to benefit from their roles in this. Stone whose biggest role to date has been her role in Superbad, has appeared in a few other comedies, but this might give her a wider appeal with the hot material. Once horror staples, Zombies and Vampires have branched out into broader appeal. Zombies with comedies like Shaun of the Dead, and vampires with popular series with Twilight. This is a film that doesn't have the heartthrob character like Twilight, but it has plenty of comedy. It has some good potential to a decent opening weekend and good word of mouth after that.
Whip It – October 9th
In her directorial debut Drew Barrymore directs the story of a social outcast named Bliss Cavendar whose only escape is through a roller derby league she finds in nearby Austin, Texas. She must deal with the stenuous training of being a Rollergirl and parents who don't want her to waste her life in such endeavors and focus on the beauty pageants that have been forced upon her.
What could go wrong? To be honest, when I first read about this film some time ago I wasn't expecting much. Although adding Kristin Wiig to the cast certainly helped pique my interest. What finally did it for me was the awesome trailer. It looks like Drew Barrymore could ride the coattails of Ellen Page's Juno/indie persona all the way to awards season. It looks like a very strong cast and a very funny and touching film. Will it catch on to major audiences like Juno? Probably not, roller derby is not something that sells itself to mass audiences. Although with a cast including, Jimmy Fallon, Juliette Lewis, Alia Shawcat, Daniel Stern, Marcia Gay Harden, Eve and Zoe Bell, it could end up being a breakout hit. Look for this one to pop up a bit more in conversation with awards season.
Where the Wild Things Are – October 16th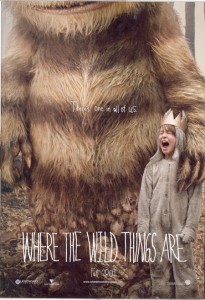 If you are part of my generation you've had this book read to you and you know the story of Max and his imaginary adventure where he sails to a land of furry giants. This film is going to expand the story quite a bit, especially saying the original story is mostly images and consists of only ten sentences.
What could go wrong? Well, the trailer for this one is absolutely fabulous, right down to the use of the music of Arcade Fire. With how short the book is, you'd expect the whole movie to be the length of the trailer. However, this is going to be a full length film and Spike Jonze looks very up to the task. Test screenings tend to suggest that film is a bit darker than you would expect from an adapted children's book. So, it remains to be seen if this will be a family film or it will just be a cash-in to the hipster generation that resonates so well with Spike Jonze and other directors like him. Don't expect anyone to say "The book was better than the movie." This will be a film which looks very true to the spirit of the book, but so much more. At the beginning of the year it was in my Top 10 must see list, it hasn't moved yet, and I'm hoping I won't be disappointed.
The Road – October 16th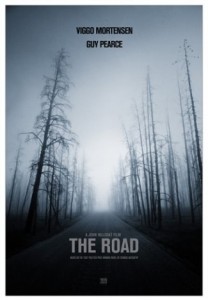 Based on the Cormac McCarthy novel of the same name, The Road takes place a few years after a cataclysmic event which has left the planet ravaged and destroyed. It follows a father and son as they travel across the desolate landscape and deal with the aftermath of the destruction and the people who survived it.
What could go wrong? Well, anyone who saw director John Hillcoat's The Proposition shouldn't worry about this adaptation. The Pulitzer Prize winning novel is dark, but prime for a screen adaptation. Even with the film being moved around to multiple release dates it still is being released as Oscar bait. Both Viggo Mortensen and Guy Pearce both could be up for Oscars for this film if the buzz is correct. What will be interesting to see is if they tone down some of the darker themes from the book to hit a wider audience. Cannibalism is not usually a big sell for a film, but it might create a sense of dire circumstances for the characters. Also, will the characters who have no names other than "Man" and  "Boy" resonate with film audiences? My only hope for this one is that they keep the release date solidly this time.
Amelia – October 23rd
This biopic of the famous female pilot, Amelia Earhart, follows her as she becomes the first female to fly across the Atlantic solo.  The story is said to be a love story between her and her husband George Putnam, played by Richard Gere. It follows her career, all the ups and downs, all the way to her final days when she tried to do a solo flight around the world and was never heard from again.
What could go wrong? Well, we all know what Hillary Swank is one of the most talented actresses around these days, and the Academy absolutely loves her apparently. Quite a long way to come from being in The Next Karate Kid, right? It will be interesting to see what kind of chemistry her and Gere have together.  Hopefully we will see Ewan McGregor get to stretch out and get to act again. I've been disappointed with his choices as of late, he hasn't been bad in the films he has been in, but the films definitely have been. This should be right up Swank's alley with the tomboy character so similar to ones she has played so well in the past. Once you factor in director Mira Nair, who seems perfect for a film like this, the film has a lot of potential.  It's another movie that seems a bit like Oscar bait, we all know the Academy loves biopics. I don't expect audiences to flock to this one though.
Youth in Revolt – October 30th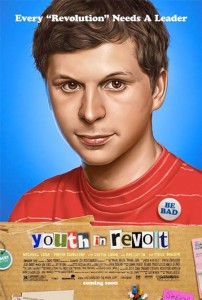 Youth in Revolt follows teenager Nick Twisp on vacation in a RV park in Northern California. After meeting local girl Sheeni Saunders, he decides he wants to lose his virginity to her, the only problem? Everyone else seems to be standing in his way. From exes, parents, and parent's boyfriends, he is going to have to find a way to put up with it all if he wants to accomplish his goal.
What could go wrong? Well, this is yet another adaptation of a novel coming out this month. In the novel Nick is a bit younger than Michael Cera who is playing the title character. The character will be made to be a bit older, but still not Cera's age. This is a role right up Cera's alley, he is doomed to be typecast for the rest of his life it seems as an awkward guy who just really wants that cute indie girl (even if she might be his cousin). This time he plays the virginal Nick Twisp who is a bit obsessed with girls and sex, not unlike other teenage boys, but in this film he is willing to go farther than many other 'youths' would to get it. Look for newcomer Portia Doubleday in the role of Sheeni Saunders. This could easily be a breakout role for her, almost in the same way Superbad did for Cera. Director Miguel Arteta is more of a TV guy, but with work on shows like Freaks and Geeks and Ugly Betty he could be right for this type of material. Although he is rumored to be involved in the adaptation of the Dave Eggers's novel You Shall Know Our Velocity, which as adaptations go, gives me far more to think about.
The Box – October 30th
I haven't read much about this film, but as the studio synposis here is what I know. A couple is given a mysterious box by a stranger.  The box has supernatural powers which can grant them riches beyond their dreams, but kills someone unknown to them in the process. What will they do?
What could go wrong? Well, director Richard Kelly had a cult hit on his hands with Donnie Darko only to follow it up with the seriously disappointing Southland Tales this time he takes an adaptation of a Richard Matheson short story called Button, Button. Matheson who is famous for I Am Legend has a unique story that Kelly could turn into another pop culture favorite if he does it right. Audiences love moral dilemmas when it comes to money. The whole film seems like a premise for a game of 'Would you rather?'.  You have the supposedly hot actress Cameron Diaz who hasn't turned in a bona fide hit for a while now, and the under appreciated James Marsden who seems pretty solid in almost everything he is in. This is the only thriller movie coming out this week, which has huge benifits for it if someone wanted to see a spooky thriller before Halloween. With the next Saw installment out at the same time, it might have it's work cut out for it.