Def Leppard, with Poison and Cheap Trick Review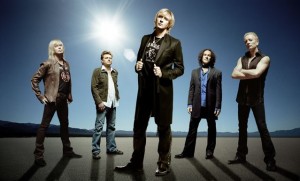 Putting together a summer concert package can be tricky but the pairing of Cheap Trick with Poison and Def Leppard this summer was a match made in 80's glam rock heaven. It has been more than 20 years when these bands were the rock gods, when hair metal taught kids to tease and spray their hair, when florescent pink, green and Purple were the style. You could see it in the crowd at the Verizon Amphitheater last night. With lots of 80's attire, Mullets, and some women wearing things they shouldn't. Although Def Leppard closed the show, this was definitely more of a co-headlining gig, as both Poison and Def Leppard had tons of devoted fans in attendance. When Poison was done some of the Fans actually left.
The sun was out, but that didn't warm up the crowd for Cheap Trick. Many were either still filing in or hanging out in the beer garden for the band's 40-minute set. Singer Robin Zander's vocals were muffled on some songs, but the sound did improve as the set went on. He just didn't seem that into it. It was guitarist Rick Nielsen who helped salvage their performance. He is entertaining to watch with his multi-necked guitars, but he just couldn't carry the whole set. The band played hits, including "I Want You to Want Me," "The Flame" and "Surrender," and even threw in a new song, "These Days." Plus, Zander did his rendition of "Don't Be Cruel." They came across as a bit disorganized and lackluster.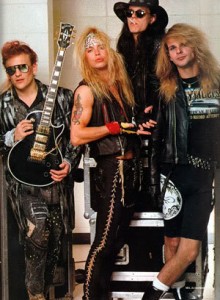 When Poison took the stage, the band should have injected a high-energy boost the audience needed, Like a 5 hour energy shot, with a 60-minute set filled with fan favorites. It was a more toned-down show for the band, with no bad language, no confetti, and just a few pyrotechnics — not exactly the party-band image they used to portray, and what I was looking forward to. What they lacked in style, they made up in their old songs, bursting onto the stage with "Look What the Cat Dragged In" and going right into "I Want Action" and "Ride the Wind."Brett Michaels dedicated " Something to Believe in" to troops overseas and had his friend, former Marine Big John (he is also on "Rock of Love" with Michaels), film the crowd singing for the troops. Guitarist C.C. DeVille teased the crowd a bit with a solo into "Fallen Angel." He's not a master, but he can still do a pretty decent job. They finished out the set with more favorites such as "Unskinny Bop," "Talk Dirty to Me" and the power ballad "Every Rose Has Its Thorn." Poison finished with an encore of "Nothin' but a Good Time," which left the crowd itching for more rock 'n' roll. Micheals left thanking the crowd for being around for 23 years, and making Rock of Love the number one show on VH1 last year.
That itch was definitely scratched by Def Leppard. The songs may be old, so old my wife doesn't know some of them, but the band surely isn't. They came out ready, jamming through crowd pleasers such as "Rock! Rock! Till You Drop," "Rocket" and "Animal." Even after three decades, singer Joe Elliott still has it, hitting the right notes. Each band member had a chance to showcase his talent, including a Vivian Campbell guitar solo at the end of "Love Bites" and a bass solo by Rick Savage leading into their version of David Essex's "Rock On."Drummer Rick Allen and guitarist Phil Collen also had their time in the spotlight, including an interesting camera shot down Collen's Guitar. "Guitar Hero" enthusiasts got a lesson on how to play a real guitar. One of the best parts of the show came when everyone except Allen made their way to the end of the catwalk for an acoustic version of "Two Steps Behind," followed by Elliott, Collen and Campbell doing a majority of "Bringin' on the Heartbreak" acoustically, took me back to Mtv Unplugged. On "NO!" the band fired up in full again to wrap the song. The rest of the 90-minute set featured more classics, including "Photograph" (complete with pictures of the band over the years), "Pour Some Sugar on Me" (everyone was singing), "Rock of Ages" and an encore of "Let's Get Rocked." Their energy was so contagious, even those in the Lawn were on their feet the whole show. Rick Allen end the show in full Cardinals attire and throwing his cardinal hat into the crowd, Thanking everyone who came out. You would be hard-pressed to find another band so dedicated to its craft. You can see the passion in their art, the dedication on their faces, and the broad smiles as the crowd responds. Is Poison still nothin' but a good time? Is the Trick still Cheap and Is the Leppard still Def? Anwsers Depending on what you paid for this concert, Sort of, and Hell Rockin Yeah
Cheap Trick | Grade = C –
Poison | Grade = B-
Def Leppard | Grade = A-