2009: What to Look Forward To Part 2
Click this to read Part 1 in the series.
Alright, here it is, the continuation of Part 1 of the most anticipated films of the last half of the year. This part will be covering September. Once again I will only be going over select films. so if something if you are looking forward to is not on here, I'm sorry.
Gamer – September 4th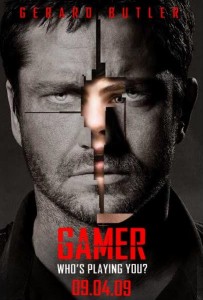 Imagine a world where video games are a matter of life and death. In this world humans control other humans in video games. Set in a future where mind control technology allows for players to take control of another human being for a video game called "Slayers". Gamer follows a teenager named Simon, played by Logan Lerman, who is the best at the game. He somehow manages to keep his character alive for weeks. He controls a man named Kable, who is trying to find a way to break out of the game expose the mastermind behind it all, Ken Castle played by Michael C. Hall.
What could go wrong? Well, Gerard Butler is rising start, that is for sure, but can he carry his own picture? Especially in the dwindling box office month of September? The overall concept sounds very familiar to Death Race, which didn't do a great job in theaters last year. The concept is just different enough that it could bring in a curious audience. Studio Lionsgate is banking on this one, should the rest of us? It will open number one the weekend it comes out, but I wouldn't expect a long run. I'm willing to change my mind once I see it. If it has good entertainment value it could be one of the better performing September pictures.
Extract – September 4th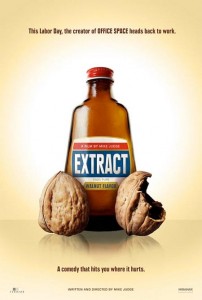 Creator of Office Space, Beavis and Butthead, and King of the Hill, Mike Judge has a lot clout in the comedy world.  This time he brings us the story about a man who owns flower-extract plant whose life is in shambles. After an accident on the product line he is in danger of being sued. He also has a wife who appears to be unfaithful, and the prospect of getting bought out. Add into the mix the beautiful new temp and he's got a whole mess of problems he doesn't know if he can deal with.
What could go wrong? Well, if Judge's last theatrical effort, Idiocracy,  is any barometer of interest in his movies then we have a bit to be worried about. Although this one seems to play to his strengths a little better. Idiocracy failed because it was a fun idea take a little to far over the edge into stupidity. This film appears to be a bit more grounded and focuses on the blue collar environment he portrays so well in things like King of the Hill.  He has a much more well known cast this time around as well. Jason Bateman has resurrected his career ever since his role of Michael Bluth in Arrested Development, Ben Affleck gained some of his respect back with State of Play, and Mila Kunis is a comedic actress on the brink of becoming a huge star. Will this movie  be a breakout hit ala The Hangover? Nope, but it will probably be fun to watch. It will at least have a few quotes you will hear way to often from friends.
9 – September 9th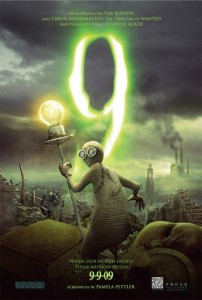 Do yourself a favor and watch this Oscar nominated short film which this is an adaptation of. 9 takes place in a parallel post apocalyptic world in which we follow around the title character as he struggles to stop the human race from extinction. 9 is a leader and the last hope for the fight against the machines. The only question is can he stop what is coming? 9 is voiced by Elijah Wood, along with other actors such as Christopher Plummer, Jennifer Connelly, John C. Reilly, Crispin Glover, and Martin Landau.
What could go wrong? Well, it is being produced by Tim Burton who has his own built in audience, however he isn't the director of this one.  Shane Acker who made the short film was given the reins in his directorial debut. This looks like it is going to be Up's competition come Oscar time. The short already has been nominated, now bring the animation up another notch and give it an a-list cast and it is for sure a contender. If it is anything as good as the trailer then we will have a banner year for Best Animated Picture along with longtime Burton collaborator Henry Selick's Coraline. It will be interesting to see if audiences connect with this one or not. It is a little darker looking then normal animated fare, so will parents be willing to bring their kiddies to it? We will see.  It is one of my most anticipated films of the year.  Releases like this give me hope that September won't stay a graveyard for abandoned films like it has been for so long.
Cloudy With a Chance of Meatballs – September 18th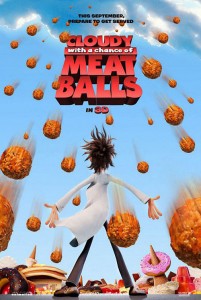 An adaptation of the children's book of the same title, Cloudy With a Chance of Meatballs follows inventor named Flint Lockwood, voice by Bill Hader, who is trying to figure out why it has started raining food.  You also have a mayor up to no good with one of Flint's inventions, voiced by Bruce Campbell. A bully who has tormented Flint all of his life, voice by Andy Samberg, and a weather girl who is going to help Flint sort everything out voiced by Anna Faris.
What could go wrong? Well, despite an amazing cast, this is strictly kids fare. Where Up proved you can have your cake and eat it too, catering to both adults and children. This is a film aimed mainly at children who have a good enough suspension of disbelief that they can really imagine giant meatballs raining from the sky. This isn't a bad thing, on the contrary this will have a good gross at the box office just because it is so appealing to bring children to a film aimed strictly at them. Less and less children's movies come out each year. G rated films are almost extinct. The voice talent in this should be good enough to keep parents entertained throughout the film. My only complaint is that the CG animation looks a little outdated compared to a lot of animated films out, and even compared to Sony's last animated film Surf's Up.
Jennifer's Body – September 18th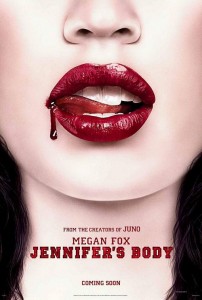 As I've stated many times. I think most horror films sucks.  This one doesn't really sound much better to me. It follows a high school cheerleader who gets possessed by a demon and tries to kill all of the boys in town. Playing this demon possessed with a desire for human flesh? None other than the uber-hot Megan Fox.  Amanda Seyfried plays her friend who must protect the town from her evil best friend.
What could go wrong? Believe it or not, this is the followup to Juno from writer Diablo Cody. Talk about going in a completely different direction. It was a pretty low key production until photos came out of Megan Fox topless (or almost so). So, this one is a little more high profile due to Megan Fox's new status and the hottest starlet in town from her role in the Transformers films. The cast in this one is nothing to scoff at, great character actors like J.K. Simmons and Alison Janney are in their second Cody film. Adam Brody who I once thought had the potential to be the next Tom Hanks everyman type guy once again shows us he needs a new agent. The positive about this film is that it looks like it is pretty funny at times, and doesn't take itself to seriously. The bad, if the trailer is any indication it looks like horror out of a straight to DVD flick.
The Informant – September 18th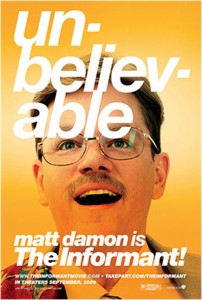 Only enjoying a limited release comes Steven Soderbergh's next film starring Matt Damon as a man on the rise in the agriculture business who turns whistleblower for the US Government. The problem? This rising star, Mark Whitacre, isn't the good guy he appears to be. Slightly dimwitted and always looking for a way to fast track his career, he could blow one of the government's biggest corporate busts.  This may sound like Michael Clayton, but it is far from it. It is an offbeat comedy based on a true story which appears to funny to be true.
What could go wrong? Well, first off it starts out only as a limited release. Although it is expected to expand into more markets during early October. Matt Damon's goofy portrayal of Mark Whitaker is going against his type as of late. Soderbergh tends to bring out a bit more goofiness in Damon than other directors can. The trailer for this one is what made me so interested in it. I had read the synopsis and wondered how it was going to be a comedy, but it looks like it could be the best comedy entry of the fall movie season. The only potential flaw is if it presents the character as too much of an idiot and the comedy relies strictly on that, it could get stale. I'm willing to find out!
Pandorum – September 18th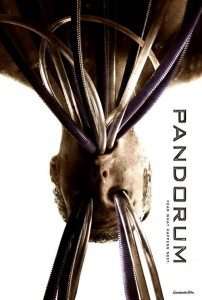 Wow, September 18th looks a little crowded right? Actually, this and Jennifer's Body are the only two films that actually are vying for the same audience. Producer Paul W.S. Anderson is once again back in space with something that looks eerily familiar to his own Event Horizon.  Pandorum follows two astronauts who awake from their hyper-sleep chambers to find out they aren't alone on their ship. As Corporal Bower, played by Ben Foster, searches out the ship guided by Lt. Payton, played by Dennis Quaid, he realizes something horrible has happened on the ship.
What could go wrong? Like I said in Jennifer's Body, I'm not a huge fan of most modern horror films. This one has me excited. Make fun of me as much as you want, even with the bad pseudo science Event Horizon is one of the scariest horror/sci-fi films I've ever seen. Coming from some of the same team behind that movie and in addition to it German director Christian Alvert, you have the chance for a frightening and suspenseful time. Space and the minimal lighting aboard the spacecraft will make the jumps come easily when least expected. It is interesting to see what road Dennis Quaid's career is heading down though. It seems he is taking more roles recently, but this along with his role in G.I. Joe most likely aren't there to win him awards. Ben Foster once again surprises me with his role as an action type star. If you followed him early in his career you would have never guess the roles he would be playing now.
Fame – September 25th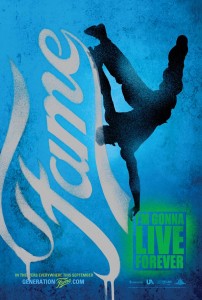 Call me whatever you will, but I love it when movies do musicals. Fame is a remake of the popular 1980 film of the same name. Fame once again follows students of the New York City High School for the Performing Arts as they struggle to find their identities amongst the droves of talent that attend the school. Each student will have their passion put to the test as they compete against other students to show they deserve fame.
What could go wrong? Well, first off the trailer looks fantastic. It looks much better than the clones of Fame that have come since like Step Up (and sequels). Add in the fact that original Fame cast member Debbie Allen plays the principal in this new film and things start looking even better. What isn't as good is untested director Kevin Tancharoen, although being a choreographer could only be a benefit to a picture like this. We know this film will have amazing dance and song, but will it have the heart that the original Fame had? With a cast of unknowns to most people this film will be relying mostly on the pardon the pun, but the fame of the original film. It is going to have it's work cut out for it to be the best musical of the year with Nine hot on it's heels.
Surrogates – September 25th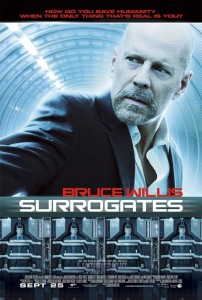 Yet another adaptation, this film based on a graphic novel of the same name takes place in a future where human interaction is done through a robot surrogate. Instead of going out, you instead lay in a chair and connect to your robotic surrogate who is a better looking version of yourself. This prevents any fear of an accident or death. When surrogates start dying suspiciously a cop is forced to leave the house for the first time in many years to investigate the mysterious circumstances behind the murders.
What could go wrong? Well, Bruce Willis is doing what he does best, playing a cop. This foray into science fiction should set him far enough apart from his many other roles as a badged officer. The concept is really intriguing. Imagine if everyone could interact through something that looked like them, just more beautiful? Imagine if you couldn't get hurt because in the end you just get your robotic surrogate repaired. Would this make people more reckless? There are a lot of interesting concepts that seem straight from a Philip K. Dick novel. Not having read the graphic novel it is based on I am intrigued to see if it plays itself out like many other science fiction story or if it is just a murder mystery with sci-fi leanings. I'm picking this graphic novel up before the film just so I can know what to expect.
The Invention of Lying – September 25th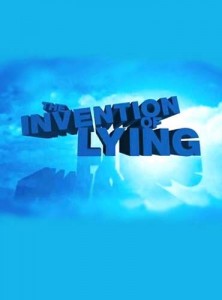 Comedic mastermind behind The Office, Ricky Gervais, brings us this high concept comedy which takes place in a world where no one has ever lied before. Down on his luck writer Mark has found out the secret to success, lie! He invents the first lie and since no one has ever lied before it is taken as the truth. What happens when you stretch the truth to far and the whole world hangs on your every word? Well, Mark is about to find out and it may not end as well as it started for him.
What could go wrong? This is going to draw a lot of comparisons to Jim Carrey's popular Liar, Liar. What you have is basically the reverse of that film. Our world is so based in lies it is hard to imagine one without any. Imagine a politician speaking on tv and telling you "I'm a crook." How would things change if no one could lie. The concept for this idea is so great and the comedic potential is limitless. What might a downfall for the film is Gervais himself. If you are fan, you know he is one of the best comedic talents in show business. Although the American audience is one that loves vanity and he isn't your normal leading man. The hardest thing about this film will be getting people in the seats, not keeping them there. Gervais just needs to score one breakout hit to become a household name in America like he is in the UK.
As you can see, September is a crowded month. There are a lot of good flicks out there. It will be interesting to see if they can lead to the biggest September of all time. There are a lot of good films here, let's hope that studios realize that films can make money any time of the year as long as they release quality films.\
Check back soon for Part 3!