"1408" Screenwriter Matt Greenburg Writing "Pet Cemetery" Remake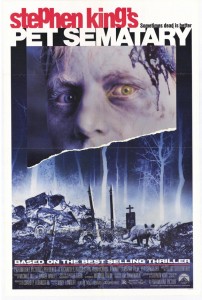 Paramount is reviving the Stephen King story, Pet Cemetery, with King's 1408 scribe doing the writing duties. The film will be an adaptation of the popular Stephen King book of the same name, which already produced a film in 1989 starring Dale Midkiff, Denise Crosby and Fred Gwynne.
The story follows a family who lives by the highway, and loses many pets each year to it. The family starts burying the animal's in a pet cemetery. Things start to go awry when their cat comes back from the dead, and it isn't the same. It appears the cemetery lies over an ancient burial ground that has sinister properties.
The original film scared the crap out of me when I was younger. There was something about it that just made me shiver, and the second one with Clancy Brown was still scary to me as well.  I'm still not sure about remaking it. I'm not the biggest fan of remakes, and horror films seem to be getting an obscene amount of remakes lately, and most them are bad remakes of already bad B-movies. (For an exception read our review on The Crazies.)