"The Runaways" HD Trailer Starring Kristen Stewart and Dakota Fanning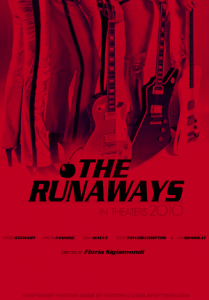 While watching this trailer I had to quickly get over the fact that Dakota Fanning is still a very young woman, who I still consider a child actor who is playing a "sexy" role. It is a little odd to see her kissing people, and alluding to sex. I'm no prude, it just seems that a couple years ago she was still this awkward looking child actor. It is painfully obvious that Fanning is growing up quick, and right in front of us. She looks like she will be a pretty solid actor, and doesn't look like she will go all Lohan on us (although there is still time). Kristen Stewart seems to grow on my less and less, every role seems more wooden than the last. Hopefully, the trailer is misrepresenting her, but I did not like what I saw.
Synopsis:
The Runaways were the ground-breaking, all girl, teenage rock band of the 1970s. Friends, Joan Jett and Cherie Currie went from rebellious Southern California kids to rock stars of the now legendary group that paved the way for future generations of girl bands. Under the Svengali-like influence of rock impresario Kim Fowley the group became an outrageous success and a family of misfits. With its tough-chick image and raw talent, the band quickly earned a name for itself-and so did its two leads.
Release Date: March 19th, 2010