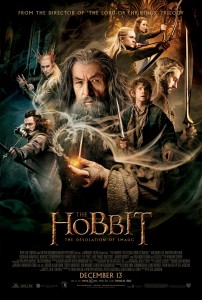 After a week off Reel Spoilers is back and more spoilery than ever.
This week it's all about The Hobbit: The Desolation of Smaug. Here's a little Tolkien trivia for you. Did you know that Wikipedia describes Smaug as a "fictional dragon"? This can only mean that dragons are real! Holy shit! It must be true if it's on Wikipedia.
How are we just now finding this out? I've spent my whole life wearing seatbelts and condoms… and why? Why would I do that when a dragon could just appear out of nowhere and "desolate" me? My entire life has been a lie. I'm canceling my 401K and cashing out my kids' college fund. There are DRAGONS!!!1!!1!
Oh, and we also have a box office report and a video recovery. But chances are a dragon will have killed you before we get that far.
It's Reel Spoilers #25 – The Hobbit: The Desolation of Smaug.
You've been warned… about dragons!
Starring: Tom O'Keefe, Joe Buttice, Dan Graney, and Kevin Brackett
Run-time: 1 hr 15 min
Subscribe to Reel Spoilers: reviewstl.com/category/reel-spoilers/feed/
Want to take Reel Spoilers on the go? Download episode 25 from TalkSTL.com.