'Zombieland' Kills Box Office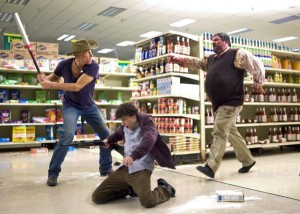 Zombieland is off to a great start with an estimated $25 million this week, averaging over $8,000 per screen. This is a big win for a film with a budget of only $24 million. The film started the weekend well with rave reviews from critics, and exit scores show that audiences agree with critics. The picture has been averaging an A from CinemaScores. The buddy comedy featured zombie violence ala Shaun of the Dead, full of pop culture references and humor the film is expected to have good word mouth. It will be very surprising if this one doesn't have good legs.
Ricky Gervais' new film Invention of Lying got off to a lackluster start grossing an estimated $7.4 million. The film which is Gervais' feature directorial debut takes places in a world where no one can lie. That is until Gervais' character discovers he has the ability to lie. The film has encountered some controversy as being "anti-Christian" and "anti-God".  Lying posted about half the per screen average as this weeks winner, Zombieland.
Other newcomer, which was also a directorial debut, this time for actress Drew Barrymore. was Whip It. The film performed at below expectations bringing in only an estimated $4.9 million dollars. The film which garnered generally favorable reviews could have been hurt by a small marketing campaign and a crowded weekend at the box office.
In its first week of wide release Michael Moore's documentary about the economic crisis and the status of capitalism in this country, Capitalism: A Love Story had a decent weekend bringing in an estimated $4.8 million, which is very solid for a documentary. This brings the current total after last week's limited release to an estimated $5.25 million.
There was one other "new" film on the weekend. The popular Pixar/Disney Toy Story series were brought back in a limited 3D double feature engagement. The films grossed an estimated $12.5 million, with a little over $7,000 per screen. While the company has said it will only be a two week engagement, if the films continue to perform well, we could see another week or two tacked on. The most impressive thing about this run is the fact that the double feature runs over 3 hours.
Among holdovers Cloudy With a Chance of Meatballs has proven itself to be a bonafide hit adding another $16.7 million to it's already impressive total which now amounts to $82.4 million. Surrogates came in fifth, dropping over 50% to land another $7.3 million. The total box office for the weekend is down only slightly from the same period last year where Beverly Hills Chihuahua was top dog with $29 million.
Closing out their runs this week were X-Men Origins: Wolverine and Star Trek which ended with $180 million and $258 million respectively. Wolverine had the bigger opening weekend, but dwindled fast. Star Trek showed it had some legs and good word of mouth behind it, and is now the top grossing Star Trek film and most attended.
TW
LW
Title (click to view)
Studio
Weekend Gross
% Change
Theater Count / Change
Average
Total Gross
Budget*
Week #

1

N

Zombieland
Sony
$25,000,000

–

3,036

–

$8,235

$25,000,000

$23.6

1

2

1

Cloudy with a Chance of Meatballs
Sony
$16,700,000

-33.3%

2,977

-142

$5,610

$82,392,000

$100

3

3

N

Toy Story / Toy Story 2 (3D)
BV
$12,500,000

–

1,745

–

$7,163

$12,500,000

–

1

4

N

The Invention of Lying
WB
$7,350,000

–

1,707

–

$4,306

$7,350,000

$18.5

1

5

2

Surrogates
BV
$7,344,000

-50.7%

2,951

–

$2,489

$26,387,000

$80

2

7

31

Capitalism: A Love Story
Over.
$4,850,000

+1,990.8%

962

+958

$5,042

$5,252,000

–

2

6

N

Whip It
FoxS
$4,850,000

–

1,720

+1,217

$2,820

$4,850,000

$15

1

8

3

Fame (2009)
MGM
$4,754,000

-52.5%

3,133

+37

$1,517

$16,634,000

$18

2

9

4

The Informant!
WB
$3,800,000

-42.6%

2,425

-80

$1,567

$26,580,000

$22

3

10

7

Love Happens
Uni.
$2,777,000

-35.5%

1,922

+24

$1,445

$18,910,000

$18

3

11

5

Tyler Perry's I Can Do Bad All By Myself
LGF
$2,670,000

-43.9%

1,569

-551

$1,702

$48,354,000

–

4

12

6

Pandorum
Over.
$1,923,000

-56.5%

2,506

–

$767

$7,819,000

$40

2