Zach Snyder to Meet with Frank Miller About the "Man of Steel" Sequel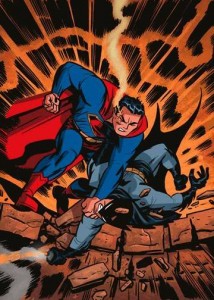 Zach Snyder has already adapted two of Frank Miller's graphic novels, 300 and Snyder is penning the 300 sequel.  So why wouldn't he talk to Miller about the upcoming Superman/Batman movie?  I mean, Miller did write the knock down, drag out brawl between the two DC icons in The Dark Knight Returns.
According to a report by The Independent, Miller had no idea the announcement was coming at this years Comic Con.  The reading of some lines of dialogue from The Dark Knight returns (by actor Harry Lennix) was a shock to everyone. Miller included.

The article reports that a "source close to Miller" had this to say:
"He is going to be meeting with Zach in the next few days to go over the plans for the Superman film.  Things should be clearer after that"
What I find interesting is that they are calling it a Superman film.  I can only assume that Batman will play a supporting role.
With no more information at this time, one can only surmise that Snyder is meeting with Miller to get a better handle on both Superman and Batman.  Maybe some input on the script of some kind.
Personally, I do not want to see a Dark Knight Returns style movie. Since they are bringing Batman into the movie, I'd like to see a Batman based on Miller's Year One story line. A Batman that's not a rookie, but also not the character that doesn't have a fix on every angle. Sure the two heavyweights can duke it out, but if you're going to build into the Justice League, Clark and Bruce need to become united at some point and build a friendship.  I really like the idea of these two as friends and confidants.  I guess we will have to wait as see what happens.
What do you want in the Superman/Batman movie?  What do you think will come from Snyder meeting with Miller?  Leave your comments below.