WWE Monday Night Raw Review: Cena vs Bryan on Miz TV, 20 Man Battle Royal, Punk Attacks Lesnar
If the WWE is looking to make Summerslam a big seller, they better hope fans want to see one of two matches. For some reason, the WWE has put most of it's energy into promoting just two matches for the second biggest pay per view of the year. While I would like to see some other wrestlers get a push, I am pretty stoked about the event. Sure, we will have Cody Rhodes and Damien Sandow going against each other, as well as Kane and Bray Wyatt. Will Kane follow the buzzards? I really don't care at this point. Onto the matches that really matter.
John Cena vs Daniel Bryan is the headliner, but will it be that match of the night? I don't think so, but more on that later. I'm a bit turned off at the involvement of the McMahons in this feud. Triple H is now the guest referee, meaning that Vince will undoubtedly interfere in the match. I hope that it's just a smoke signal trying to throw off fans, but I seriously doubt it. If Vince interferes, it will take something away from this match. It has a chance to be a very big moment for the career of Daniel Bryan. Speaking of Cena and Bryan, I did not like the reference Cena made about Make-a-Wish. We all know that he gives a ton of time to the organization, but did he really have to mention one of the kids he met? I thought that was a bit distasteful. Anyway, it's clear by the promos both men cut on Miz TV that neither of them respect one another. Cena's smack on Bryan was pretty damn awesome. I am willing to bet that this segment alone sold some pay per views.
WWE has a possible juggernaut on its' hands with the Brock Lesnar-Paul Heyman and CM Punk feud. This has been some of the best story writing that WWE has had in months. It's been perfectly orchestrated. Having Punk get the best of The Beast on Raw was well done. Fans can now believe that Punk can beat Lesnar, even though I hope he doesn't. This match should be one for the ages. As I said last week, the ferociousness that both men show when they are battling each other is like no other feud in recent memory. This should be the match of the night at Summerslam.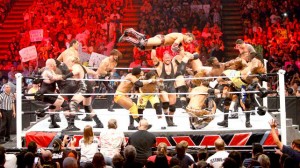 Another aspect of Raw that I enjoyed this week was the 20-man battle royal. This was definitely one of the best battle royals I have seen on free-TV. Dean Ambrose is finally going to get a worthy opponent for the United States Championship, in Rob Van Dam. I am a bit disappointed that the WWE has decided to put this match on the pre-show. I feel this is definitely a pay per view worthy match. I look for Ambrose to get the win over RVD, but it will be a great match.
Overall, I am satisfied with the way the WWE has promoted Summerslam. There is a lot of fan excitement with Cena/Bryan and Lesnar/Punk. It has that big event feel because of two matches, and those two matches could prove to be two of the more exciting matches that the WWE has had in months.