Movie Review: 'Jobs' Starring Ashton Kutcher, Josh Gad, Dermot Mulroney
Whether you are a "Mac" or "PC," there is one thing we can all agree on – Steve Jobs was a force in the personal computing industry. No matter if you grew up playing the Oregon Trail in elementary school, bought an MP3 or app from iTunes, or saw the movie Toy Story – Jobs had an impact on your life: even if you didn't realize it. It is only natural that the man who took Apple from near bankruptcy to the highest valued publicly traded company in history would receive his own biopic. With Jobs' passing in late 2011, and all the interest generated in his life, the story of Apple has never been more relevant.
Steve Jobs (Ashton Kutcher) was a college dropout who started Apple Computers in his father's garage, with his best friend Steve Wozniak (Josh Gad). Jobs constantly shot for the moon, and enlisted the help of friends to complete initial orders that the two of them couldn't fulfill alone. But when Apple went public in  1980, he denied stock options to Daniel Kottke (Lukas Haas) and several of Apple's first employees – stating that anyone could do their jobs. When he found out his college college girlfriend Chrisann Brennan (Ahna O'Reilly) was pregnant, on the brink of Apple's early success, he immediately denied that the child was his. None of this is sugar-coated in the film, which paints Jobs as a controlling and self-centered genius.
The name "Ashton Kutcher" isn't exactly synonymous with dramatic acting. Kutcher has appeared in several successful comedies since his first starring role in Dude, Where's My Car? in 2000, yet none of his films have ranked over 49% on Rotten Tomatoes. However the 35-year-old actor aims to change all that with an impressive performance as Steve Jobs. There are times when his resemblance to Jobs is uncanny, everything from the hair and facial expressions to his speech and body language. It is obvious that Kutcher went all out for the role, studying everything down to the tiniest details of the Apple founder's life. The film opens during 2001, at the unveiling of the first iPod at Apple's Music Event (watch the actual clip here). The similarity to Jobs' in his late 40s is uncanny.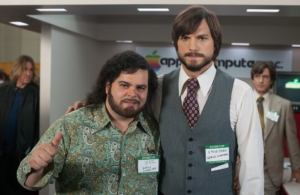 As most people familiar with the story know, you can't talk about Steve Jobs without mentioning Steve Wozniak, A.K.A. "The Woz." Josh Gad, who has made a name for himself with films like 21 and Love & Other Drugs, as well as starring in The Book of Mormon on Broadway, turns in the best performance of his carer in Jobs. Gad steals an emotional scene toward the end of the film, where he explains to Jobs why he started the company with him – and who he has watched him become. Not unlike Kutcher, he shows range that we have yet to see in previous films. The hair and makeup team also got the look of Woz down to a tee.
One of the greatest things the film has going for it is that it's entertaining. Director Joshua Michael Stern, and with writer Matt Whiteley, have taken taken a movie about building computers and made it accessible to the majority of filmmakers. There are literally scenes devoted to soldiering components onto motherboards a garage, debates over font options for menus – as well as countless references to projects throughout Apple's history. Yet they all come off as fascinating, never presented in a way that is too technical or boring. And a majority of the credit has to go to the way Kutcher represents Jobs' passion for technology, and his devotion to greatness.
Jobs features a great supporting cast including Dermot Mulroney as Mike Markkula (one of Apple's earliest investors who became 1/3 owner of the company), Matthew Modine as John Sculley (former President of Pepsi and creator of the "Pepsi Challenge") and J.K. Simmons as Apple board member Arthur Rock. Serving alongside Jobs on the board, the three of them played a huge part in the real story. Although the three of them are fairly well-known, they fit nicely into their respective roles.
It is always hard walking out of a biopic knowing what was the honest truth, and what was ramped up for effect. Several scenes focus on Jobs alone, while many others are the conversations between him and one other person. By the time production started it was too late for Jobs to be a part of the consulting process, and the film isn't adapted from the bestselling biography by Walter Isaacson (who Jobs personally requested to write it). What we do know is that Steve Jobs was a brutally honest man, who was dedicated to his work. Kutcher's performance captures everything we know about Jobs, and is surely the best performance of his career. Whether you are an Apple fan or not, the film tells a compelling story of a man who changed our world forever.
Jobs is a B