Woody Allen's "You Will Meet a Tall Dark Stranger" HD Trailer Starring Josh Brolin, Naomi Watts, Freida Pinto, and Anthony Hopkins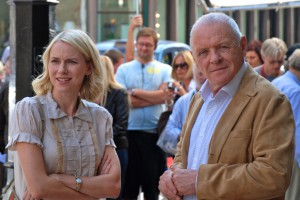 I might be committing a crime for a film critic, but I've never been completely won over by Woody Allen. Sure, he has some classics such as Annie Hall and Manhattan, but I just haven't gotten into much else. I often feel that among the most pretentious people I meet, Woody Allen tends to be mentioned quite a bit.  I'm not saying I hate the guy's films, but I just don't find them to be the masterpieces so many people make them out to be. To each his own right?
You Will Meet a Tall Dark Stranger actually intrigues me a bit. It still has that certain quality that doesn't endear me to Allen's work, but I am at least interested this time around. Part of it is the fact that I find Freida Pinto absolutely intoxicating to watch. Although it may not be the film I look most forward to this year, it is nonetheless a film that I won't dread going to see.
(Feel free to remove my film snob credit.)
Synopsis:
After Alfie leaves his wife Helena to pursue his lost youth and a free-spirited call girl named Charmaine, Helena abandons rationality and surrenders her life to the loopy advice of a charlatan fortune teller. happy in her marriage, Sally develops a crush on her handsome art gallery owner boss, Greg, while Roy, a novelist nervously awaiting the response to his latest manuscript, becomes moonstruck over Dia, a mystery woman who catches his gaze through a nearby window. Despite these characters' attempts to dodge their problems with pipe dreams and impracticable plans, their efforts lead only to heartache, irrationality, and perilous hot water.
Starring: Josh Brolin, Anthony Hopkins, Naomi Watts, Freida Pinto, Antonio Banderas
Directed by: Woody Allen
Produced by: Jack Rollins, Letty Aronson, Jaume Roures
Release Date: September 22nd, 2010 (limited)
[hdplay id=64 width=595 height=375]