Wonder Woman TV Series Will Happen Eventually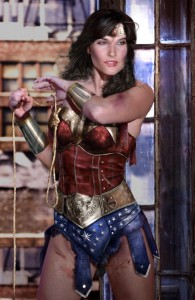 David E. Kelley has been very successful in the television community.  Doogie Howser, M.D., Ally McBeal, and Boston Public are just a few of the television successes that he has created.  So it seems odd to me that every major studio would pass on his pitch for a new show.  It seems even more odd that the show he was pitching was Wonder Woman.
Well Kelley is not discouraged.  He recently talked with The Hollywood Reporter and had this to say.
"I think the likelihood is we'll see it next year," he told The Hollywood Reporter. "I'm being optimistic but I don't think I'm being unrealistic."
 
Kelley noted that the script was "rolled out very late in the game" and said that he would bring the project back to NBC, which reportedly passed. The project reportedly failed to move forward there due to executive reshuffling.

He said that the network… would be a "good home for it" under incoming programming chief Robert Greenblatt.
 
"I like to think of it as a smart script and I know he responds to smart material," Kelley said Thursday of his vision in which Wonder Woman would be explored as a "real complex woman and not just a superhero."
It just shocks me that in a time that superheros are huge and genre shows like The Walking Dead have flourished that the studio would pick up one of the if not the most popular female superhero available.  Idiots.
Fan created photo came from here.
Do you want to see a Wonder Woman TV series or should we just go right for a movie?