Win FREE passes to 'Law Abiding Citizen' at the St. Louis Advance Screening
ReviewSTL invites you to enter for the chance to win FREE passes to the St. Louis advance screening of "LAW ABIDING CITIZEN"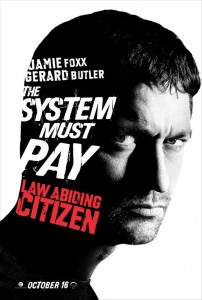 Enter for your chance to win a pass good for two!
OPENS NATIONWIDE FRIDAY, OCTOBER 16
Please note that winning passes to 'Law Abiding Citizen' does not guarantee admission to the film. You must arrive early as seating is first-come, first-served. It is usually safe to arrive at least 1 hour or more before show time!
Synopsis:
Clyde Shelton (Gerard Butler) is an upstanding family man whose wife and daughter are brutally murdered during a home invasion. When the killers are caught, Nick Rice (Jamie Foxx), a hotshot young Philadelphia prosecutor, is assigned to the case. Over his objections, Nick is forced by his boss to offer one of the suspects a light sentence in exchange for testifying against his accomplice. Fast forward ten years. The man who got away with murder is found dead and Clyde Shelton coolly admits his guilt. Then he issues a warning to Nick: Either fix the flawed justice system that failed his family, or key players in the trial will die.
In order to enter the contest, simply leave a comment below about why you want to see the movie. Winners will be chosen at random and notified via e-mail. No purchase necessary.
Screening is THURSDAY, OCTOBER 15 at the Des Peres 14 Cine. Good luck! We hope to see you at the movie.