Watch the Blues Season Opener in Sweden today at 2PM!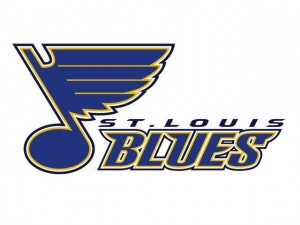 Yes! Do you bleed Blue? Well, today the Blues have their season opener in Sweden against our rivals the Detroit Red Wings. This is a first of a two game series against the Red Wings.  Both games are at 2PM, be sure to tune and watch your St. Louis Blues battle the Red Wings in a historic season opener! Let's Go Blues!
From St. Louis Blues's Official Website:
2008-09 Season Series: Detroit won five of six against the Blues last season, including a 4-3 decision in a shootout. Pavel Datsyuk led the Wings with five goals against St. Louis. In the Blues' lone win, a 5-4 decision on April 2, David Backes scored four goals.
Big Story: The Blues and Red Wings traveled to Sweden to open the season with back-to-back games as part of the 2009 NHL Premiere-Stockholm. The experience inside the Ericsson Globe will likely be different than what they know from back home. The excitement level here is high and the interest in the games is unbelievable. However, thanks to Detroit's Swedish contingent, including national icons like Nicklas Lidstrom and Henrik Zetterberg, the Globe will probably feel more like Joe Louis Arena both Friday and Saturday nights. The Blues know that and accept it, but are motivated by it as well.
Team Scope:

Blues: They tore through the League in the last two months of the 2008-09 season, going 19-7-3 from Feb. 12 on, to clinch the sixth seed in the West. They adapted a hard-working, take-no-prisoners mentality and plan to bring that into this season. However, the Blues have more skill now with both Paul Kariya and hulking Erik Johnson back healthy. Plus, their goaltending situation isn't as tenuous as now Chris Mason and Ty Conklin can feed off of each other. They closed the preseason with three straight wins by a combined 15-1, but the real stuff starts now.

Red Wings: They still have the big guns in Henrik Zetterberg, Pavel Datsyuk, Johan Franzen, Tomas Holmstrom, Nicklas Lidstrom, Niklas Kronwall and Brian Rafalski. They're hoping Todd Bertuzzi can recapture a once glorious career and Jason Williams can fill a big role on the third line and at the point on the power play. Chris Osgood is coming off a subpar regular season but a marvelous playoff run. He says he's ready to go, though he has been fighting off a virus here in Stockholm.
Who's Hot: St. Louis coach Andy Murray thinks his fourth line of Alex Steen, Jay McClement and B.J. Crombeen has been the Blues' best all preseason. Detroit backup goalie Jimmy Howard played brilliantly in the last two exhibition games and the Wings third line of Valtteri Filppula, Jason Williams and Ville Leino was by far their best line Wednesday night against Farjestads BK.

Injury Report: The Blues have D.J. King (thumb) on IR. Darren Helm (shoulder) and Andreas Lilja (post-concussion symptoms) are on IR for the Wings. Zetterberg battled a sore groin all of training camp, but he finally played in a preseason game Wednesday and says he's ready to go. Osgood was sick this week, but will get the start.
Stat Pack: Blues right wing T.J. Oshie had a solid start to his career against the Wings last season with three goals and two assists. … St. Louis backup goalie Ty Conklin was 2-1 against the Blues last season while playing for Detroit. … Paul Kariya had 15 points in 11 games last season, but hasn't played since Nov. 5, 2008. … The last time the Wings won a season opener in regulation was Oct. 5, 2005 when they beat, of all teams, St. Louis by a 5-1 margin in Detroit. They also beat the Blues the next night, 4-3, in St. Louis. … Nicklas Lidstrom is three points away from 1,000 for his career.
Puck Drop: "They don't have any weaknesses," Blues coach Andy Murray said of the Red Wings. "We're playing the best club team in the NHL and half of the Swedish national team. We're excited."
Dan Rosen | NHL.com
---
The Blues have one of the strongest rosters they have had in years. If they aren't plagued by injury again this year, and show the type of drive they had in the second half of 2008-09 season, then we will be strong contenders for a playoff run.