Toy Story 3D Double Feature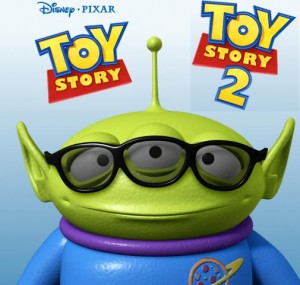 I am desperately trying to think of what to say about the Toy Story movies that hasn't already been said a million times.  It is one of the most beloved animated series ever created, and it launched a new animation house at the time, Pixar. Since Toy Story launched in 1995, Pixar has done 10 feature films, and have won 4 Academy Awards for their efforts. They have became almost as famous as the company that gave them their start. The onset of Toy Story in the 90s launched a new era of animation, one that some might argue killed off traditional animation.
Where the Toy Story series sets itself apart is not in its animation, which even its first effort is better than many current efforts out today, but in its attention to their characters and stories.  I can still remember my uncle taking my sisters and me to a new theater which had stadium seating. At this point stadium seating was a luxury, and not yet the norm. So, as a 11 year old boy I sat and patiently waited for the film to start in some new comfy seats. I can't remember being entertained that well in a theater before that point. Sure there were other movies I really loved, but this was different. Pixar got it, you didn't have to dumb down the material, you could even throw a few jokes at the adults. This slick new style of animation only helped everyone be in awe of it.
When Toy Story 2 came out I had much of the same experience, except I was a bit older by this point. I still went with my family, and like the first film everyone enjoyed themselves. By this point I'm sure I was already becoming a surly teenager (or at least I assume so), but still I couldn't help but love the characters and the world they lived in. Pixar created such a great concept that you almost wanted to run to your closet to make sure your old toys were doing ok.  Sure, the normal buddy comedy themes were there, and the story moved in a way you expected, but there was something about the humor and the bright animation that made it feel so fresh.
Now that I have gone sentimental on you about my love of films I saw when I was younger, let us get to the issue at hand, the double feature. If you are lucky enough to see Toy Story and Toy Story 2 in its limited two week engagement, consider yourself lucky. Not because of the 3D, the films already had enough depth and an intriguing story to keep any person adult or child glued to the screen for two hours. No, you should consider yourself lucky that you get to experience a great cinematic experience again. It is hard for me to believe it has been 14 years since the original film, most of the children in the screening I went to weren't even a glint in their father's eyes in 1995. Yet, here is another generation that gets to experience two great films. What is so great about that? Sure, they could watch it on DVD, but no matter what anyone says, you cannot replace the memory of a great theater experience.  These younger children will remember the time they saw those awesome movies about the talking cowboy with the pull string, and his space cadet friend.
If you go to see Toy Story and Toy Story 2 in their 3D Double feature, do it because they are great movies. Do it because it really is a great way to spend 3 hours of your day, I swear it won't feel like a waste. If you have children and they have not seen these films, take them I'm sure they'll have a good time. Don't worry either, there is a 10 minute intermission in between the films. It gives you plenty of time for bathroom and concession breaks, and if you don't need to do that, there is fun trivia led by Toy Story characters. Have fun at the movies!
Grade: A+