Weird Al Yankovic Interview: Al Makes a St. Louis Stop at the Family Arena for "Alpocalypse"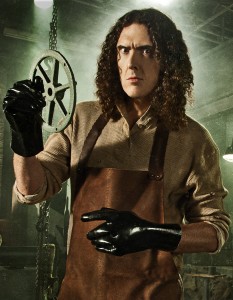 We see musicians come and go throughout the decades. Sure, there are a handful of artists that survive the changes in culture and keep a loyal following. But those artists are few and far between. Yet Weird Al Yankovic hit the scene in 1976, after handing a recording to Dr. Demento, and has been a staple of pop culture ever since.
I had the chance to talk with Weird Al about his "Alpocalypse" tour, which comes to St. Louis on April 19th at the Family Arena, as well as about his career in music, movies, television and more.
Kevin: I've been a big fan of yours since I listened to my first Weird Al CD, "Bad Hair Day."
Weird Al: Well thank you! No kidding, that's awesome.
I saw you back in 2011 at the Family arena, and you put on one hell of a show. Are you changing up anything for the Alpocalypse tour since the last time you came to town?
No, it's the same tour. I'm working on new songs, but they won't be in the show. I am working on the new album – I've got a couple of originals in the can that I'm writing and recording soon. The parodies I'll probably do later this year. No idea when the new album is coming out, but hopefully sometime in the next 30 or 40 years.
So I take it you are keeping the new songs under wraps?
Yeah, I found that's the best way. If I give any hints, the fans are tenacious about it and build up in their own minds, "Oh, I bet it's gonna be like this." And when it winds up not being exactly what they hand in mind, they're disappointed. So I found that kind of not saying anything is the best policy.
That make sense. Some of the songs you have requested permission for over the years have been turned down by the artists. Are there any songs that you thought would be perfect, but just couldn't end up being released?
I had several for Prince in the '80s. And famously, he just does not apparently like parodies. He turned me down every time. He's really the only guy who consistently said no.
I know you do that as a courtesy, and don't have to get permission under parody laws. Why is it something you feel so strongly about?
Logistically there are several reasons, but the most important thing to me is that I like to maintain very respectful relationships with the artist that I parody. Whenever I do the parodies they aren't mean spirited; they're all done in good fun, and are meant to be tributes. I think that is one of the reasons I've been able to do what I do for as long as I have. I've got a track record of respecting artists, and they now view it as a real rite of passage to get their Weird Al parody.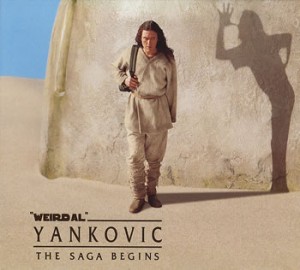 A couple of your songs have been Star Wars related. Are you excited for the new movies coming out?
Yeah, I am. I mean, I guess that's probably still a few years down the line. I think J.J. Abrams is going to do a great job on number VI, and I have high hopes.
When the first prequel was released, "The Saga Begins" was pretty popular. Do you think you might get something ready for the new trilogy when the time comes?
I don't know. I always said half-joking that I do a Star Wars song every 20 years like clockwork. But you know, we'll have to wait and see. That might actually come to pass.
Have you heard all the news on the Veronica Mars Kickstarter, and crowdsourcing their new movie?
I hadn't heard about that, but I know of a lot of other Kickstarter things that are being bandied about.
They were the fastest to reach $1 million dollars, in only four hours. Their goal was $2 million in 30 days, and they are already almost at $4 million in less than a week.
WOW.
It shows that when there is a following, and the fans get behind something, they can get stuff made. And you obviously, with such a long career and loyal following, have a lot of fans that might get something made like a UHF 2. Have you considered being a part of that?
Yeah, I 'd love to do another movie. I don't know if I want to UHF Part 2. I know that UHF has built up a cult following, and I'm very gratified by that. I would love to do another movie, but just not sure that UHF 2 is the way to go. It didn't exactly set the box office on fire when it came out in 1989. Even though I know it has a following now, I would rather move on and do something slightly different.
Kickstarter seems like a good way to go. I've got one more album left on my contract, and after that I'm a free agent as it were. So I sincerely doubt that I would be signing another
record contract. I will have to kind of feel my way around it and see what the best path to go forward would be from there.