Weekend Box Office: Minions vs. Cowboys and Indians ('Despicable Me 2' vs 'The Lone Ranger')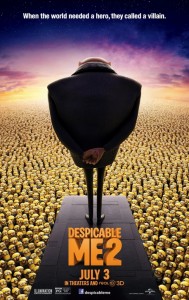 This holiday weekend's box office was nothing but red, white and… Gru. Despicable Me 2, which opened Wednesday against Disney's $250 million dollar The Lone Ranger, brought in an estimated $82.5 million dollars according to Box Office Mojo. The competition, starring Johnny Depp and Armie Hammer, brought in a disappointing $29.4 million during the same 3-day period.
Read our review of The Lone Ranger here.
The minions are ruling the world, or at least the worldwide box office, as Despicable Me 2 has made $142 million domestic and $151.1 million overseas ($293.1 worldwide). The Lone Ranger has brought in around $48.9 million domestic and $24.3 million overseas ($73.2 million worldwide). It is yet to be determined whether or not the film will have much success in foreign markets, but it is going to take a lot of tickets to get it into the black.
Here are the top 10 box office returns from July 5 – 7. For a complete listing, visit Box Office Mojo.
| | | | | | | | |
| --- | --- | --- | --- | --- | --- | --- | --- |
| TW | LW | Title (click to view) | Studio | Weekend Gross | Total Gross | Budget* | Week # |
| 1 | N | Despicable Me 2 | Uni. | $82,518,000 | $142,076,000 | $76 | 1 |
| 2 | N | The Lone Ranger | BV | $29,432,000 | $48,936,000 | $215 | 1 |
| 3 | 2 | The Heat | Fox | $25,000,000 | $86,398,000 | $43 | 2 |
| 4 | 1 | Monsters University | BV | $19,590,000 | $216,127,000 | – | 3 |
| 5 | 3 | World War Z | Par. | $18,200,000 | $158,758,000 | $190 | 3 |
| 6 | 4 | White House Down | Sony | $13,500,000 | $50,478,000 | $150 | 2 |
| 7 | 5 | Man of Steel | WB | $11,415,000 | $271,206,000 | $225 | 4 |
| 8 | N | Kevin Hart: Let Me Explain | LG/S | $10,100,000 | $17,460,000 | – | 1 |
| 9 | 6 | This is the End | Sony | $5,800,000 | $85,554,000 | $32 | 4 |
| 10 | 7 | Now You See Me | LG/S | $2,770,000 | $110,415,000 | $75 | 6 |