James Gandolfini's Top 5 Film Roles, In Memory of a Great Actor
James Gandolfini's death was a shock and heartbreaking loss to Hollywood, his family and his fans. While the man is no longer with us, there is no doubt that his iconic role as Tony Soprano will live on forever in television history – as one of the top characters of all time. Besides The Sopranos, Gandolfini had several other memorable and great performances. In honor of an actor we lost far too soon, here are my top five Gandolfini film roles.
5. Pat in Not Fade Away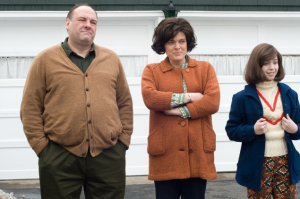 It's no surprise that David Chase and Gandolfini reunited for this 2012 film about a pair of friends who start a band that never makes it. While, I was disappointed with the film overall, I felt Gandolfini's role as Pat, father to wanna-be musician Douglas, was brilliant. Pat was constantly trying to force Douglas to apply himself and make something of his life, rather than waste it on a fledgling music career. Toward the end of the film, the viewer really could see that Pat was regretful of the route his life had taken, working a 9-5 to support his family. It was almost if he looked up to his son for pursuing his dream. Gandolfini played it to perfection.
4. Douglas Lloyd Riley in Welcome to the Rileys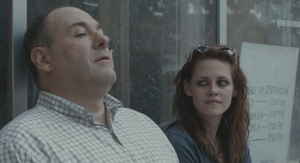 Again, a rather boring film that is saved by Gandolfini's performance. Married for 30 years, there's something wrong with the Riley's. Douglas's wife never leaves the house and he has a mistress whom he meets on Thursday nights. While on a conference in New Orleans, he meets Allison, or as we find out later Mallory is her real name, played by Kristen Stewart. Yes, it's another depressed, strung out, 'I want to kill myself' look for Stewart. The relationship between Riley and Mallory looks to be a creepy older man with younger girl relationship, but it turns out to be nothing like that, as Riley tries to become a father figure to the troubled girl. "Welcome to the Riley's," is another top-notch performance from Gandolfini as a heart-broken husband in pain.
3.  Virgil in True Romance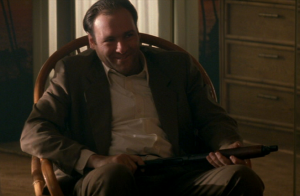 I may be a bit biased by placing this role so high, but damn it was awesome. This was arguably Gandolfini's first big role in a film. The film, which was written by Quentin Tarantino, is unapologetic, violent and brilliant. Director Tony Scott got top-notch performances from a cast that included Christian Slater, Dennis Hopper, Christopher Walken, and Patricia Arquette, and a ton of other big names. Gandolfini basically played a mob hitman charged with finding Clarence and Alabama Worley, played by Slater and Arquette, after they mistakenly wind up with a coke dealers suitcase. His main scene involves him beating Arquette to a pulp before the tides turn and she goes crazy on his ass. This film was so violent, especially in this scene, that it is hard to find the unedited version, unless you have the special edition DVD or Blu Ray. One of my favorite films of all-time, it's a must see.
2.  Colonel Winter in The Last Castle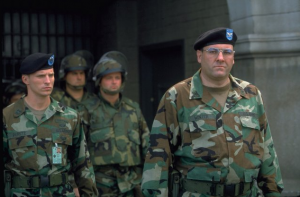 You have to have acting chops to stand next to the great Robert Redford and Gandolfini stole the show in this one. Redford's character, General Irwin, is transferred to a maximum security military prison, its warden, Colonel Winter, is enamored with the General. Irwin has been stripped of his rank for disobedience in a mission, but not of fame. Colonel Winter, who runs the prison with an iron fist, believes in different methods to keep his prison in line. After being in the prison for only a short while, Irwin sees Winter's unjust treatment of the inmates. To teach Winter a lesson, Irwin decides to take over the prison. This sets off a battle between warden and prisoner.
1. C.I.A Director in Zero Dark Thirty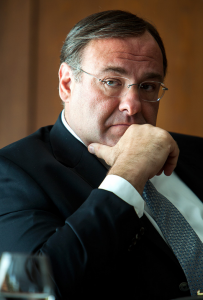 I know that he's hardly in the film, but Gandolfini plays his role as the C.I.A Director with perfection. It also didn't hurt that the film won a ton of awards and was highly regarded by critics and audiences. In a movie that is dark, tense, uneasy, and plain hard to watch, he delivers the most memorable scene of the movie, along with Jessica Chastain. The lines will go down in cinematic history as some of the funniest in a rather serious film. As the CIA Director is briefed by Chastain's character, Maya, she tells him, "I'm the MF'r that found this place. Sir."
What is your favorite James Gandolfini role? Tell us in the comments below!