Movie Review: 'Despicable Me 2' Starring Steve Carell, Kristen Wiig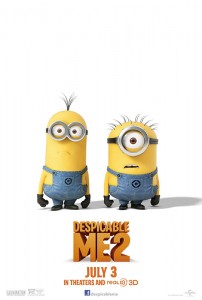 Despicable Me was a surprise hit in 2010. Up until then, Disney and Pixar reigned supreme when it came to animated features, with Dreamworks and Blue Sky trailing closey behind. Then out of nowhere came Illumination Entertainment and Universal, along with their army of minions. The film brought in over $250 million at the domestic box office, which was more than matched by overseas returns. There was no doubt that audiences were going to get a sequel, but history shows that it is rare for a sequel can hold up to the original. But in the case of Despicable Me 2, it is darn close.
Gru (Steve Carell) has came a long way since his days of being a super-villain. After his failed attempt at stealing the moon, along with a change of heart, he now spends his days looking after his three adopted children: Agnes (Elsie Kate Fisher), Edith (Dana Gaier) and Margo (Miranda Cosgrove). Unfortunately, though his days of evil doing are over, there are still other villains trying to take over the world. And the "Anti-Villain League," including their top agent Lucy (Kristen Wiig), need Gru's help to track down the person responsible for stealing a top secret experimental serum that creates indestructible soldiers.  When the thief uses his minions as test subjects, things get personal.
I didn't get a chance to see Despicable Me in theaters. To be perfectly honest, there was a time where anything animated that wasn't a Pixar or Dreamworks film seemed like a knock-off. But when I finally got around to watching Gru and his minions, I understood what audiences fell in love with. The first film is charming, and clever – giving kids what they want, while never ceasing to entertain the adults along the way. And luckily for fans of the franchise, Despicable Me 2 is more of the same. With as many laugh out loud moments as there were in the first one, it's hard to believe – but there are even more in the sequel.  From Gru's troubled attempts at fatherhood as a retired bad guy, to just about every time you see those loveable little minions – the movie is non-stop fun!
I was happy to see Steve Carell return as Gru, and not be replaced by an actor that would take a lesser paycheck.  Studios are usually pretty wise to keep the original voice actors in animated films, but it would be so easy to re-cast – due to the fact that you don't see any of them. Carell's Eastern-European accent has become iconic, and the film wouldn't be the same without it.  All three of Gru's girls are voiced by the same actors, who are as cute as ever on-screen. But without a doubt, Miranda Cosgrove steals the show as little unicorn-loving Margo. I don't know how they make that character so adorable, but hat's off to the animation team at Illumination.
Kristen Wiig returns for the sequel, actually having played a different role in the first film. Instead of the quirky head of the adoption agency, Miss Hattie, Wiig has a much larger role this time as Lucy the secret agent. After Gru is recruited by the "AVL," the two are stationed together at a bakery inside of a local mall. It is there that they suspect one of their fellow shop-owners is actually a super-villain, who has stolen the serum they are looking for. Wiig applies her usual charm to the character, accounting for many of the laughs in the movie. Her interactions with Gru are priceless at times.
The animation holds up to the fantastic job Illumination did with the first film, if it hasn't gotten a bit better even. Their style is bright and colorful, as seen in Despicable Me and The Lorax, and never lacks the magic it takes to stack up against the competition. The film is available for 3D viewing, although isn't necessary to enjoy the story. If you are going to see anything in 3D however, an animated feature such as this one is the way to go. It never seemed distracting, which is my main point of contention with most – but that is mainly on post-converted live-action films.
If you loved Despicable Me, there is no doubt that you are in for a good time with the sequel. Everything that made the original so entertaining is there. Whether you come for Gru, the girls – or the minions – there is something in it for everyone. Despicable Me 2 may not be simply the funniest animated film of 2013, but perhaps is the funniest movie we've seen all year.
Despicable Me 2 is an A