WB and DC Comics Announce Movie Slate Through 2020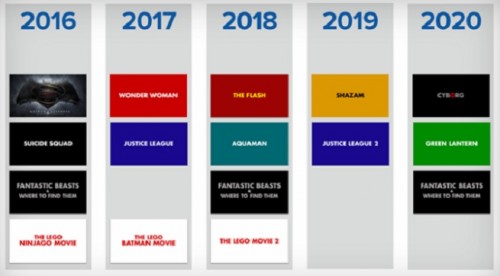 No need to bury the lead folks.  There you have it,  the DC Cinematic Universe has been set.  At a shareholder meeting today, Kevin Tsujihara (CEO of Warner Brothers) made the blockbuster announcement.  Not only will Zack Snyder's Justice League be broken up into two movies, but we will also get a stand alone Wonder Woman (played by Gal Gadot) movie in 2017.
In 2018, The Flash and Aquaman will also make their big screen debut. We know that Jason Momoa (Game of Thrones) is playing Aquman and  will have a small part in BvS, but to what extent is still unknown.  With The Flash, it was also announced today that Ezra Miller (Perks of Being a Wallflower) will be The Flash.  What a version of the character (Barry Allen, Wally West, or Bart West) is still unknown.  Miller and Mamoa will be in both Justice League films as well. I still don't understand the thought process behind having two version of The Flash (TV and Cinematic).  That's an odd mindset.
Moving on to 2019, Shazam already has it's villain/anti-hero cast.  Dwayne "The Rock" Johnson was announced a couple of months as Black Adam.  No other news or casting has been announced yet.  The second flick for that year is the second part of Justice League.
2020 is an interesting one.  The two movies on the slate are Cyborg and Green Lantern.  I've yet to figure out the push behind Cyborg.  I know Geoff Johns loves the character.  So much so that he added him to the main roster during his New 52 relaunch of the Justice League. To me, he's always been a character that works in a team setting (Teen Titans or Justice League), but he's always been kind of one dimensional. The other big flick is the reboot of Green Lantern. I think the 9 year gap between the last movie and this one is a good thing.  We will never be able to forget the complete misfire of the 2011 version, but hopefully with wound won't be quite so fresh.  Again, no word on which version of the Green Lantern (Hal Jordan, John Stewart, Guy Gardner, or Kyle Rayner) will appear on screen.  I can only assume Cyborg and Green Lantern will debut in the Justice League.
What I find interesting is that there is no Superman or Batman solo flicks on the slate.  That doesn't mean the movies aren't coming and I'm sure they're working on something. I just found it strange that they didn't announce anything.  The other question I have is why the Suicide Squad?  It's a third tier book at the most.  That was an odd choice.
Overall, it's pretty exciting to see the DCCU take shape.  Now we only have to wait 2 more years…….