Watch Roger Ebert on Oprah Find His Voice – Video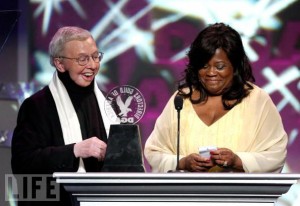 Roger Ebert has strong opinions on the films he sees, but the man is almost always succinct, and after you read his reviews you can usually understand where he is coming from. In the cruelest form of irony, Ebert has had no talking voice of his own for sometime now. The famous film critic has lost his voice box and jaw to surgeries relating to cancer.
Ebert went on Oprah to talk about his new digital voice created for him, using clips of audio from previous recordings of himself. Sure it isn't perfect, but I imagine using it is much like finally scratching an itch you've been trying to reach, except multiplied by a thousand.
I've found myself having a slightly different opinion from Ebert on many movies throughout the years, but he is still a critic I read every week to see how my critical barometer rates. It is incredibly sad to see him the way he is currently, but his writing voice seems as strong as ever. If you don't already, I suggest you follow him on Twitter, he is probably my favorite person to read on there, due to his insights and humor.
To read more about his missing voice, read our previous article here.
Another piece on him by CBS (note: it mentions that Stephen Hawking has Muscular Dystrophy, but he actually has ALS, a completely different thing):