Watch Rhys Darby's "ROBOTMAN" Viral Video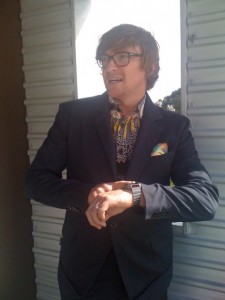 Written by Rhys Darby Edited by Ben Pollard Produced by Dan Schreiber Filmed & Directed by Bob Pipe
About Rhys Darby:
Rhys Darby first gained attention in the United States as Murray in HBO's "Flight of the Conchords." This was not a new role for him, having first appeared in the same role on the BBC radio show of the same name. An ex-soldier in the New Zealand Army and a veteran of ten years as a standup comedian, Darby made his feature film debut in "Yes Man." He then went on to feature as one of the DJ's in Richard Curtis' forthcoming film, The Boat that Rocked. He completed his first lead role in a film this year, "Coming and Going" set for release in 2010.
He is filming a new sketch show for New Zealand's TV3 with the team behind Brotown. Enjoying working in NZ between stints in the US and UK, he has presented Rocked the Nation (C4), made an appearance in the Jaquie Brown Diaries and several appearances on 7 Days.
Audiences in the UK will see him in the role of Dermot in The Amazing Dermot on Channel 4 before Christmas.
Darby is never far from his standup roots. His standup has been described as a sensational blend of sound effects, characterizations and askew observations. His career has taken him from his homeland of New Zealand, to the U.K. and beyond. He has performed his unique brand of humor in places as far flung as Iceland to the Falkland Islands, and in festivals from the Edinburgh Fringe Festival to Montreal's Just for Laughs. The release of his standup DVD, Rhys Darby:Imagine That! filmed live in LA last year is one of his proudest achievements. He is now touring a new show, It's Rhys Darby Night to London, Edinburgh and NZ this year. It features brand new standup and appearances from his favourite characters, ranger Bill Napier, whale watcher Ron Taylor and UFOlogist Steve Whittle.
After living in the U.K. and the U.S. for seven years, Darby now spends his time off at home in New Zealand with his wife and four-year-old son.