Team USA Hockey Blog From Vancouver and Full Team Roster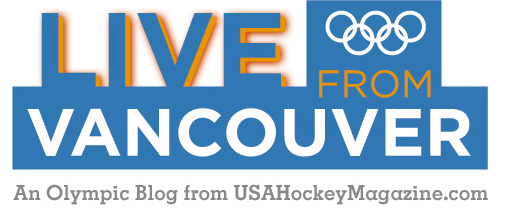 Earlier today, USA Hockey posted this blog entry:
The Eyes Of Canada Are Upon Us
It was hailed as the most anticipated hockey practice in the history of the sport.
The Pope could have been spotted partying at Robson Square and it would not have been the top story on many local broadcasts.
Olympic organizers could have sold tickets to yesterday's Team Canada practice and sold out the 18,000 seat Hockey Canada Place. Of course watching Russia and the United States practice before and after the Canadians would have made the afternoon's practice agenda worth the price of admission for hockey fans everywhere.
When it comes to over-the-top hockey coverage, the Canadians have set the ceiling pretty darn high. Their passion for the game comes through in everything they do.
Just ask the CTV morning anchor who actually predicted that Norway, Canada's opening game opponent, would actually score on Canada's Roberto Luongo? CTV soon cut to a commercial and when they came back on the air there were only two anchors on the set and Albuquerque had a new morning weatherman.
"This is our sport in our country." That's the tagline you hear all the time on television, in newspapers and from people on the street. They're very proud of their hockey heritage, and rightly so.
I love the fact that you can turn on Canadian television any time, night or day, and find half a dozen channels broadcasting something to do with hockey. In the States you're more likely to find a University of Santa Barbara vs. Boise State college basketball contest than the seventh game of the Stanley Cup finals on most sportscasts, but that is the world we live in.
I remember checking into my hotel in Montreal on the eve of the World Cup of Hockey in 2004 and watching a two-hour documentary on the history of the hockey stick. And you know what, it was pretty darn interesting, and probably got better ratings than most Stateside sitcoms.
Despite the Americans' success on the international arena in recent tournaments, most Canadians aren't giving the U.S. teams much of a chance. That's just fine with USA Hockey's coaches and management. The underdog role suits us just fine.
With great attention comes great pressure. Hopefully Steve Yzerman has a place in Michigan that he can retreat to if things don't turn out golden for the Canadian men. The same probably holds true for the Canadian women, who cruised to a 10-1 victory over Switzerland yesterday.
U.S. teams are quite content to go about their business, tossing around well-worn clichés about taking things "one game at a time" and reveling in their role as tournament underdogs. They are more than happy to live life away from the limelight and leave the prime time pressure to their Canadian counterparts.

Team USA 2010 Olympic Roster
Click each player's name to learn more from usahockey.com —
2010 United States Olympic Men's Ice Hockey Team Roster
| | | | | | | | | |
| --- | --- | --- | --- | --- | --- | --- | --- | --- |
| | Pos. | Name | Ht | Wt | Birthdate | S/C | Hometown | 2009-10 NHL Team |
| 39 | G | Ryan Miller | 6-2 | 175 | 7/17/80 | L | East Lansing, Mich. | Buffalo Sabres |
| 29 | G | Jonathan Quick | 6-1 | 223 | 1/21/86 | L | Hamden, Conn. | Los Angeles Kings |
| 30 | G | Tim Thomas | 5-11 | 201 | 4/15/74 | L | Flint, Mich. | Boston Bruins |
| 4 | D | Tim Gleason | 6-0 | 217 | 1/29/83 | L | Clawson, Mich. | Carolina Hurricanes |
| 6 | D | Erik Johnson | 6-4 | 236 | 3/21/88 | R | Bloomington, Minn. | St. Louis Blues |
| 3 | D | Jack Johnson | 6-0 | 218 | 1/13/87 | L | Ann Arbor, Mich. | Los Angeles Kings |
| 44 | D | Brooks Orpik | 6-2 | 219 | 9/26/80 | L | San Francisco, Calif. | Pittsburgh Penguins |
| 28 | D | Brian Rafalski%* | 5-10 | 194 | 9/28/73 | R | Dearborn, Mich. | Detroit Red Wings |
| 20 | D | Ryan Suter | 6-1 | 198 | 1/21/85 | L | Madison, Wis. | Nashville Predators |
| 19 | D | Ryan Whitney | 6-3 | 210 | 2/19/83 | L | Scituate, Mass. | Anaheim Ducks |
| 42 | F | David Backes | 6-3 | 225 | 5/1/84 | R | Blaine, Minn. | St. Louis Blues |
| 32 | F | Dustin Brown | 6-0 | 208 | 11/4/84 | R | Ithaca, N.Y. | Los Angeles Kings |
| 24 | F | Ryan Callahan | 5-11 | 188 | 3/21/85 | R | Rochester, N.Y. | New York Rangers |
| 23 | F | Chris Drury%* | 5-10 | 190 | 8/20/76 | R | Trumbull, Conn. | New York Rangers |
| 88 | F | Patrick Kane | 5-10 | 178 | 11/19/88 | L | Buffalo, N.Y. | Chicago Blackhawks |
| 17 | F | Ryan Kesler | 6-2 | 202 | 8/31/84 | R | Livonia, Mich. | Vancouver Canucks |
| 81 | F | Phil Kessel | 5-11 | 180 | 10/2/87 | R | Madison, Wis. | Toronto Maple Leafs |
| 15 | F | Jamie Langenbrunner^ | 6-1 | 205 | 7/24/75 | R | Cloquet, Minn. | New Jersey Devils |
| 12 | F | Ryan Malone | 6-4 | 220 | 12/1/79 | L | Pittsburgh, Pa. | Tampa Bay Lightning |
| 9 | F | Zach Parise | 5-11 | 190 | 7/28/84 | L | Prior Lake, Minn. | New Jersey Devils |
| 16 | F | Joe Pavelski | 5-11 | 190 | 7/11/84 | R | Plover, Wis. | San Jose Sharks |
| 54 | F | Bobby Ryan | 6-2 | 208 | 3/17/87 | R | Cherry Hill, N.J. | Anaheim Ducks |
| 26 | F | Paul Stastny | 6-0 | 205 | 12/27/85 | L | St. Louis, Mo. | Colorado Avalanche |