Warner Bros. Making Video Game "Green Lantern: Rise of the Manhunters" To Coincide With Film
Warner Bros. is gearing up for the release of Green Lantern next summer, and they plan to capitalize on every aspect. They are working on a video game which ties into the film. I can't say I'm surprised or entirely excited about the prospect. WB's movie tie-in games don't have a very good history, almost every single one I've played has been underwhelming. We'll see how it turns out though.
Here is WB's press release: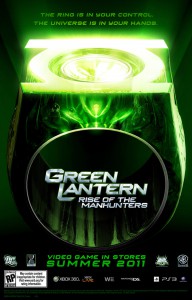 Warner Bros. Interactive Entertainment and DC Entertainment today announced Green Lantern: Rise of the Manhunters, an action-adventure title that will be available in conjunction with Warner Bros. Pictures' epic superhero feature film Green Lantern scheduled for release Summer 2011. The game will be available for Xbox 360® video game and entertainment system from Microsoft, PlayStation® 3 computer entertainment system, Wii™ and Nintendo DS™ and delivers an immersive experience for GREEN LANTERN fans that the entire family will enjoy.
Green Lantern: Rise of the Manhunters is inspired by the feature film, which brings the enduringly popular DC COMICS SUPER HERO to the big screen for the first time and which stars Ryan Reynolds in the title role as HAL JORDAN, the newest member of the GREEN LANTERN CORPS. In the videogame players will utilize over a dozen constructs and take flight across the deepest parts of the Universe to restore intergalactic order by wielding the ultimate weapon: the Green Lantern power ring.
"Green Lantern: Rise of the Manhunters gives players the chance to experience the world of the Green Lantern mythology in an interactive way, going beyond the events of the film and comic books," said Samantha Ryan, Senior Vice President, Production and Development, Warner Bros. Interactive Entertainment. "The game is the first to center around DC Comics' Green Lantern franchise and we're excited to give fans the opportunity to experience the power of the ring with engaging gameplay."
Green Lantern: Rise of the Manhunters is in development for Xbox 360, PlayStation 3 and Wii by Double Helix Games and for Nintendo DS by Griptonite Games.
About the Green Lantern Feature Film
In a universe as vast as it is mysterious, a small but powerful force has existed for centuries. Protectors of peace and justice, they are called the Green Lantern Corps. A brotherhood of warriors sworn to keep intergalactic order, each Green Lantern wears a ring that grants him superpowers. But when a new enemy called Parallax threatens to destroy the balance of power in the Universe, their fate and the fate of Earth lie in the hands of their newest recruit, the first human ever selected: Hal Jordan.
Green Lantern stars Ryan Reynolds in the title role, under the direction of Martin Campbell. Campbell directs the film from a screenplay by Greg Berlanti & Michael Green & Marc Guggenheim and Michael Goldenberg, story by Greg Berlanti & Michael Green & Marc Guggenheim, based upon characters appearing in comic books published by DC Comics. The film also stars Blake Lively, Peter Sarsgaard, Mark Strong, Jay O. Sanders, Temuera Morrison, Taika Waititi, Angela Bassett and Tim Robbins. Green Lantern is produced by Donald De Line and Greg Berlanti. Herbert W. Gains and Andrew Haas serve as executive producers. Geoff Johns and Lucienne Papon are co-producing. The film is scheduled for release in 3D and 2D Summer 2011, and will be distributed worldwide by Warner Bros. Pictures, a Warner Bros. Entertainment Company.