Darth Vader Robs Bank in New York; No Imperial Star Destroyer Seen Leaving the Scene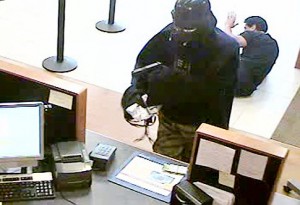 This story was just too odd not to post. Apparently a man dressed up as the famous Star Wars villain, Darth Vader, robbed a bank in Long Island.
The robber walked into Chase Manhattan in Setauket, NY, wearing a Vader helmet, a blue cape, and camo pants. Apparently, he needed steal more money to finish the rest of the costume?
Surprisingly he did not Force choke anyone, nor did he threaten them with a lightsaber. He instead brandished a gun on a teller at the bank, and demanded money.  One bystander thought the man had entered the bank in the mask as a joke, and when he approached the robber was thrown to the floor.
It has not been released how much he got away with. The police do not currently have any suspects into the robbery either, but are investigating.
I know crime isn't supposed to be funny, but how can you not laugh at something like this? I wonder if George Lucas will be requesting a part of the score, as part of his royalties agreement?
Let us know what you think in the comments!