UK Texting While Driving PSA (HD Video)
COW – The film that will stop you txting and driving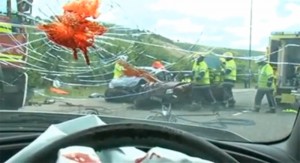 If you haven't seen the above video that everyone is talking about, you need to check it out. It is a public service announcement from the UK, about a girl who is texting while driving with her friends in the car. The outcome is tragic, and ends up becoming quite fatal. If you are the type of person who always texts while driving, you need to see this. It might just change your mind.
It's all about Cassie COWan – a nice girl from a nice Gwent valleys family – who kills four people on the road because she used her mobile and lost her concentration for a few seconds.
Gwent police is proud to have helped Brynmawr filmmaker Peter Watkins- Hughes in the production, which stars local drama students Jenny Davies as Cassie, and Amy Ingram and Laura Quantick as her friends, Emm and Jules. . The film is a sequel to a previous documentary called 'Lucky Luke', made 14 years ago, which showed the devastating consequences of joy riding. It is hoped the film will become part of the core schools programme across Wales and ultimately the UK.
Along with our colleagues in the other emergency services, we facilitated the film's crash scenes – because we want to stop ALL drivers, but particularly young and new ones, from causing accidents.
Over 300 teenagers from all over Wales were auditioned to take part in the film, nine police vehicles were involved and both the police and air ambulance helicopters featured. State of the art digital special effects were utilised to show the impact of what would happen inside the car during impact.
Lyn Samuel, School Liaison Coordinator for Gwent Police said: "We worked closely with the production team including the University of Wales Newport, Tredegar Comprehensive School and local partners including the council and Probation Service. The result is a very impactive road safety educational tool to help reduce the number of collisions involving young drivers across Wales."
Chief Inspector John Pavett from Gwent Police Roads Policing Unit hopes the serious message in this film will hit home to viewers:
"Making and receiving calls and texting whilst driving is still happening on roads not just in Gwent but all over the country. Seeing a scenario, like the one Cassie goes through, played out right before your eyes makes you realise how extremely dangerous it can be and what devastating consequences it can have.
"I hope that after watching this film motorists will think twice before picking up their mobile phone when behind the wheel and realise that a quick reply to a text message or answering a phone call is never worth putting theirs and other people's lives at risk."
If you would like more information about "Cow", please contact us at [email protected]