'Final Destination' Wins the Weekend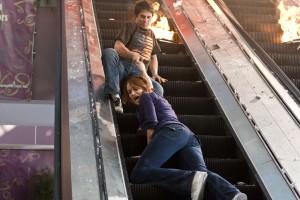 Horror flicks accounted for a huge growth over last year in the same weekend. The box office was up an estimated 38% over last year. Leading the box office was Final Destination 3D the fourth installment of the popular horror series, which made an estimated $28.3 million domestically.  70% of the gross was in its 3D showings which seemed to bring new life to the franchise, whose last installment had a $19 million dollar weekend.
The other horror film of the weekend, Rob Zombie's Halloween II, had a respectable $17.4 million this weekend. The gross is even more impressive when you consider that it went up against Final Destination 3D this weekend, both of which were vying for the same audience.  The offering of 3D is what most likely made Final Destination 3D out gross Halloween II. The advent of new digital technologies in the past few years has led to a resurgence of 3D pictures, and the grosses for films with 3D continues to soar through the roof.  Dimension, the studio which produced Halloween II has already promised that the next installment will be in the popular 3D form. Both films were not screened for critics have since received a lukewarm response, but the horror genre is not one that usually gets glowing critical raves anyways.
The other new film of the weekend Ang Lee's Taking Woodstock performed well below expectations (which were somewhere in the $5-6 million dollar range) bringing in a domestic gross of  $3.7 million. The studio which was disappointed by the take believes the film will continue to do well with Baby Boomers. The film had a mixed critical response and a small marketing campaign that showed no big faces to bring in a crowd.
Holdover Inglorious Basterds continues to be Quentin Tarantino's best performer yet, grossing another $20 million dollars this week, bringing it's domestic total to $73.8 million. Many other holdovers are doing well such as Julie and Julia which fell only 16% to $7.1 million bringing its total to an astonishing $71 million. The pic continues to do well on word of mouth, and has been a surprising hit this summer.
The other big story of the weekend was Ice Age: Dawn of the Dinosaurs continued amazing overseas performance. Premiering in Italy this weekend it brought in $10.8 million dollars marking it as the highest release ever for the country. So far it has grossed $635.2 million dollars overseas making it the 6th highest grossing picture overseas, by next week it should have taken over the 5th spot.
Next week the summer box office will be over with Labor Day weekend. This has been the best summer on record so far and next weeks total should only solidify that claim.
| | | | | | | | | | |
| --- | --- | --- | --- | --- | --- | --- | --- | --- | --- |
| Last Wk | This Wk | | Title | Distributor | Rlse Wks | Wknd | Average | # of Theatres | Resulting Gross |
| new | 1 | | The Final Destination | New Line Cinema | 1 | $28,335,000 | $9,078 | 3,121 | $28,335,000 |
| 1 | 2 | | Inglourious Basterds | Weinstein Company, The | 2 | $20,041,000 | $6,332 | 3,165 | $73,760,000 |
| new | 3 | | Halloween II | Dimension Films | 1 | $17,405,000 | $5,753 | 3,025 | $17,405,000 |
| 2 | 4 | | District 9 | TriStar Pictures | 3 | $10,700,000 | $3,364 | 3,180 | $90,813,000 |
| 3 | 5 | | G.I. Joe: The Rise of Cobra | Paramount Pictures | 4 | $8,000,000 | $2,307 | 3,467 | $132,436,000 |
| 5 | 6 | | Julie & Julia | Columbia Pictures | 4 | $7,400,000 | $2,956 | 2,503 | $70,992,000 |
| 4 | 7 | | The Time Traveler's Wife | New Line Cinema | 3 | $6,745,000 | $2,277 | 2,961 | $48,193,000 |
| 6 | 8 | | Shorts | Warner Bros. Pictures | 2 | $4,870,000 | $1,568 | 3,105 | $13,565,000 |
| new | 9 | | Taking Woodstock | Focus Features | 1 | $3,748,896 | $2,691 | 1,393 | $3,748,896 |
| 7 | 10 | | G-Force | Walt Disney Studios Motion Pictures | 6 | $2,845,000 | $1,477 | 1,926 | $111,801,000 |
| 8 | 11 | | Harry Potter and the Half-Blood Prince | Warner Bros. Pictures | 7 | $2,615,000 | $1,734 | 1,508 | $294,407,000 |
| 13 | 12 | | (500) Days of Summer | Fox Searchlight Pictures | 7 | $2,075,000 | $2,282 | 909 | $25,269,930 |