Transformers breaks record, largest Wednesday Open at $60.6 Million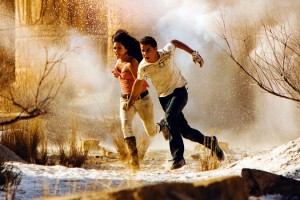 "Transformers: Revenge of the Fallen" brought in larger than life numbers at the box office on Wednesday.
According to Box Office Mojo, the second film in Michael Bay's "Transformers" robot franchise made over $60.6 million dollars during its first day in theaters (9,700 screens at 4,234 theaters). This broke the record for largest opening on a Wednesday, replacing "Harry Potter and the Order of the Phoenix" at $44.2 million.
ROTF just barely fell short of beating "The Dark Knight" out of the top spot for largest opening day. In 2008, the sequel to the incredibly successful Batman reboot, starring Christian Bale, made an amazing $67.2 million dollars when it opened on a Friday. If Transformers would have opened on a Friday, it may have just had enough momentum to push it over the top. Either way, it is going to pull off some amazing numbers in its first week in theaters.
The current "champ" for best five day gross is "The Dark Knight," which brought in almost $204 million. Check back on Monday to see if TRANSFORMERS is able to do it.

UPDATE: TRANSFORMERS BROUGHT IN $27 MILLION DOLLARS IN THEATERS ON THURSDAY AND $36.7 MILLION ON FRIDAY, BRINGING ITS THREE DAY TOTAL TO OVER $129.5 MILLION!