Tom Hanks Video Offending Kelly Ripa, Says 'Kathie Lee' on Regis and Kelly Show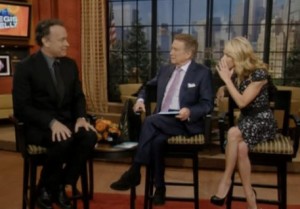 Wow. That is all I have to say. Tom Hanks, one of the most famous movie stars in the world comes onto the Regis and Kathy Lee… I mean, "Regis and Kelly Show" and accidentally references it by the old name. And Kelly sure does let him know about the mistake!
It isn't like Tom Hanks meant to say "Kathie Lee," or was poking fun at the morning show celeb. He was being as friendly and polite as ever, and telling a story – when he accidentally let slip the old title of the show, which featured Kathie Lee Gifford alongside Regis Philbin.
Hanks said, "You have the finger on the pulse of the media," while complimenting the show. "It was at Live with Regis and Kathie Lee that I saw myself on the cover of TIME Magazine for the first time." Kelly Ripa immediately gives a snippy reply, "It's live with Regis and Kelly now… I've been here for 9 years now… it's OK."
I really don't care for the way that Kelly responded to Tom Hank's mistake. I think it was really rude, and disrespectful to the star that decided to come onto their show. Tom Hanks asked, "You've been on the show for 9 years?" Kelly Ripa responded, "9 years, but you'll catch on eventually." Then when discussing the Oscars from last year she says to Tom, "Oh, I guess… well, you didn't win last year – right?"
Watch the entire Tom Hanks vs. Kelly Ripa Video Below:

What do you think of Kelly Ripa's response to Tom Hanks? Was she in the right, or did she overreact to the star's simple mistake? Leave a comment below!