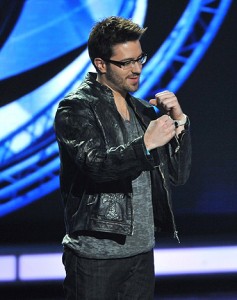 Tonight on "American Idol," former contestant Danny Gokey performed his new country song called "My Best Days Are Ahead of Me." The song is different than much of what Gokey performed last year while competing on 'Idol.'
Ryan Seacrest asked why he chose to go with a country sound. Gokey responded, "Randy Travis, when I did 'Jesus Take The Wheel,' he came up to me after. This is when all of the camera crews were shut down. And he said, 'have you ever considered doing country?' And I started telling him how country influenced me when I was younger, and how when I grew up country was just a big influence. He said, "well you need to do country. The amount of soul, and the amount of passion you put into it… the fans would embrace you and love you.' And I'll be honest, I was shocked. Because I love telling stories… I love singing… I love connecting with the fans, and a lot of country artists do that.
Here are the lyrics for "My Best Days Are Ahead of Me," by Danny Gokey.
Blowing out the candles
on another birthday cake
Old enough to look back and laugh at my mistakes
Young enough to look at the future and like what I see
My best days are ahead of me
Life hasn't always been a party
but mostly it's been good
There's only one or two things that I'd change if I could
I don't get lost in the past or get stuck in some sad memory yah
My best days are ahead of me
Age is nothing but a number
Sometimes I have to wonder
What does it really mean
But heeeey I'm still putting it together
I keep getting better
if I keep getting better
I can be whatever I want to be
My best days are ahead of me
Age is nothing but a number
Sometimes I have to wonder
What does it really mean
But heeeey I' still putting it together
I keep getting better
if I keep getting better
I can be whatever I want to be
My best days are ahead of me
I've got sunsets to witness
dreams to dance with
beaches to walk on
and lovers to kiss
there's a whole lot of world out there
that I can't wait to see
My best days are ahead of me
My best days are ahead of me