Olympic Gold Medalist Shawn White Pictured on Cover of Rolling Stone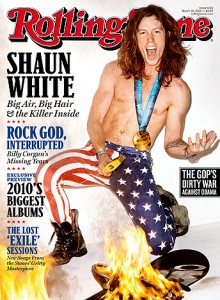 From Rolling Stone Magazine:
Shaun White has revolutionized snowboarding, won the big gold in Vancouver and lit his snowboard aflame, Hendrix-style, on the cover of the new issue of Rolling Stone, joining an elite club of athletes to appear on our cover not once, but twice. And as the focused, business savvy White tells it, a lot of his recent success on the half-pipe and off can be attributed to a new addition to his life: "Getting into music has changed my personality and my way of doing things," he reveals to RS writer Vanessa Grigoriadis. "I"m far more open now." (Watch the two-time gold medalist answer readers' questions about his favorite music, his broken bones and, of course, his hair, after the jump.)
White, who began snowboarding at six and went pro at 13, has recently returned to one of his early loves — skateboarding — but he does more shredding on one of his three Les Pauls. Jimi Hendrix, Guns n' Roses and Led Zeppelin are in regular rotation; "Whole Lotta Love" is his favorite-ever song. "I think guitar is the best thing in the world," he says. "It's the only thing where no matter what I do, I can't do it all myself."
Read more at rollingstone.com.