Thirst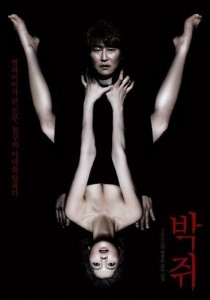 Chan-wook Park's entry into the vampire genre is one of the fresher and more interesting entries into the genre yet is a bit uneven to be an absolute success.
Following Sang-hyun, a young and giving priest who does nothing but good for his community secretly doubts the failing world he lives in.  Making the almost ultimate sacrifice he decides to participate in a clinical trial looking for a cure of a ghastly virus called, the Emmanuel Virus (EV).  When the study goes bad everyone dies in the experiment except Sang-hyun and while he contracted the virus himself, which leads to legions all over your skin and vomiting blood, he shows no signs of the illness.  This all changes though when he meets a young family at church from his childhood and is suddenly drawn to his old friend's wife, Tae-Ju, which leads to unfortunate circumstances.  This attraction causes his EV illness to suddenly arise and after a violent attack he awakes a vampire.
The film is a slow and deliberate affair for the first half of the film, but remains very interesting and engaging as we get to know Sang-hyun and we see him struggle with his humanity.  Once he turns, the film does as well, diving into erotic romance, bizarre scenes (good bizarre), and a vampire ying and yang as two school of thoughts emerge with Sang-hyun deciding he must not kill to quench his thirst while another vampire that breaks on to the scene is all about the kill.
The visual style and look of the film is magnificent as usual when it comes to Park's films and he cements himself as one of the oddest and interesting filmmakers working today.  Though it was great to see such an original and inventive take on the genre especially in a time when a lot of filmmakers are trying a lot of things with said genre.  The films sexual energy is also quite provocative and graphic and like many of Park's film is a predominant theme to the film.  Add to this the fact that Sang-hyum is a priest who begins to engage and enjoy the experience is startling and saying quite a lot about celibacy.  The vampire action is also done very well, being very cool and original without being flashy and over the top.  The finale act of the film also really shines as tension builds and the battle between the vampires hits a fever pitch and Sang-hyum slowly realizes his ultimate end.
The actors in the film are all quite good and while they might come across as a bit over the top at times in there melodramatic actions at times, they still coveys their characters emotions with such ferocity, or simplicity in one case, you can't help but buy into their story.  Sang-hyum is played with quiet confidence by Song Kang-ho and he and Kim Ok-bin as Tae-ju work wonderfully together whether they are engaged in an odd and passionate sexual experience or at each others throats over a differing of opinion.  Shin Ha-kyun plays the husband of Tae-ju and he invokes such a feeling of helplessness and creepiness when necessary you can't help but feel uncomfortable as intended when he is around in the final half of the film.  Major props to Kim Hae-sook as well who shows an amazing amount of range as Tae-ju's mother in law as she plays an almost entirely different character in the later half of the film and conveys and amazing amount of tension and emotion with few acting assets at her disposal.
In the end, Chan-wook Park creates an original vampire vision that is engaging and bizarre and full of invention in the genre.  Great work by the actors and excellent direction from Park really makes the film original and full of creativity.  The film gets better and better as it moves along and culminates in a perfect finale that is humorous and heartbreaking but ultimately feels right.  Fans of Park shouldn't miss this and from people looking for a fresh take on the vampire genre this right up there with Let the Right One In for best entries in the genre in recent memory.
Thirst is a B+