"The Other Guys" HD Trailer Starring Mark Wahlberg and Will Ferrell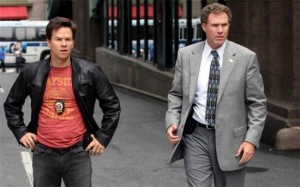 The second buddy cop comedy of the year, the first being Kevin Smith's Cop Out. (Read our review here.) Once again we have a high profile comedian paired with an action star. Also, it is directed by a high profile comedy director as well, Adam McKay, who brought you comedies like Anchorman and Step Brothers. This one has a much funnier trailer than the one for Cop Out (which probably had one of the worst of the year). Although, if you can't stomach Will Ferrell you'll most likely want to skip this one. Overall, it looks like a decent comedy, and it should be worth a laugh or two once it hits theaters.
Synopsis:
Detective Allen Gamble is a forensic accountant who's more interested in paperwork than hitting the streets. Detective Terry Hoitz is a tough guy who has been stuck with Allen as his partner ever since an unfortunate run-in with Derek Jeter. Allen and Terry idolize the city's top cops, Danson and Highsmith, but when an opportunity arises for the Other Guys to step up, things don't quite go as planned.
Starring: Will Ferrell, Mark Wahlberg, Dwayne Johnson, Samuel L. Jackson, Steve Coogan
Directed by: Adam McKay
Produced by: David Householter, Chris Henchy, Kevin J. Messick
Release Date: August 6, 2010