New "Toy Story 3" Clip – Introducing The Toys!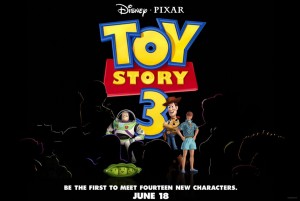 Here is a quick little clip, introducing Andy's toys to their new home. It is a nice little clip, and it gives me hope that Toy Story 3 will be just as good as the first two films. Let us know what you think about the clip in the comments!
Synopsis:
The creators of the beloved "Toy Story" films re-open the toy box and bring moviegoers back to the delightful world of Woody, Buzz and our favorite gang of toy characters in TOY STORY 3. Woody and Buzz had accepted that their owner Andy would grow up someday, but what happens when that day arrives? In the third installment, Andy is preparing to depart for college, leaving his loyal toys troubled about their uncertain future. Lee Unkrich (co-director of "Toy Story 2" and "Finding Nemo") directs this highly anticipated film, and Michael Arndt, the Academy Award®-winning screenwriter of "Little Miss Sunshine," brings his unique talents and comedic sensibilities to the proceedings. TOY STORY 3 will be presented in Disney Digital 3D™ in select theaters.
Cast: Tom Hanks, Tim Allen, Joan Cusack, Don Rickles, Wallace Shawn
Director: Lee Unkrich
Genres: Children's Fantasy, Fantasy Comedy, Family-Oriented Adventure, Fantasy, Children's/Family
Release Date: June 18, 2010